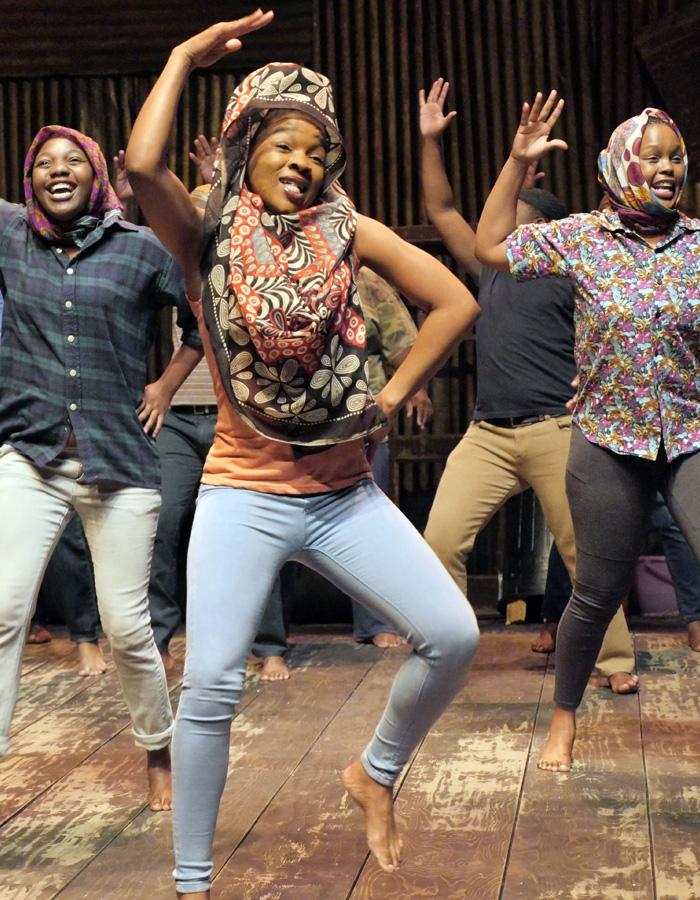 -
A Man of Good Hope
Directed by Mark Dornford-May
Based on the book by Jonny Steinberg.
A Young Vic and Isango Ensemble Production co-produced by The Royal Opera, Repons Foundation, BAM and Les Théâtres de la Ville de Luxembourg
Monday to Saturday: 7.45pm
Matinee: Sat 4 May, 2.30pm
Schools Matinee: Tue 23 April, 12noon
Running Time: 2 hours 30 minutes with an interval.
Tickets are sold through the Royal Opera House
020 7304 4000 (Mon to Sat 10am–8pm)
Linbury Theatre | Royal Opera House
The true story of a young refugee's journey through Africa told through music, singing and dance, based on the book by Jonny Steinberg.
Eight-year-old Asad is a Somalian refugee whose mother was murdered in front of him. Now living in Ethiopia, he has a brilliant head for business and he goes in search of new opportunities abroad.
Award-winning South African theatre company Isango Ensemble has won widespread acclaim for its productions that re-imagine theatre classics in a South African setting, using artists drawn mainly from Cape Town townships.
Sung in English with no surtitles
This event is part of Royal Opera House's Spring 2019 season.
★★★★★ "Bursting with life, this is a full-blooded hymn to hope" Daily Mail
★★★★ "Isango Ensemble's musical has marvellous songs and breathtaking acting" The Observer
★★★★ "A terrific slice of musical theatre - this fiercely topical show is a real treat" Mail on Sunday
★★★★ "Glorious, vibrant musical theatre that speaks to the biggest concern of our age" Financial Times
★★★★ "An extraordinary, magical piece of theatre – all politicians should go" The Times
★★★★ "Exhilarating and inspired - I urge everyone to see this show" The Guardian
★★★★ "Heartbreaking, with dynamic choreography and beautiful music" Time Out
★★★★ "A gorgeous score that bubbles with life - profoundly stirring" The Independent
★★★★ "Powerful and vivid, Asad's story unfolds in joyous ensemble singing" Evening Standard
Company Isango Ensemble
Director Mark Dornford-May
Musical Director Mandisi Dyantyis
Choreographer Lungelo Ngamlana
Lighting Designer Mannie Manim