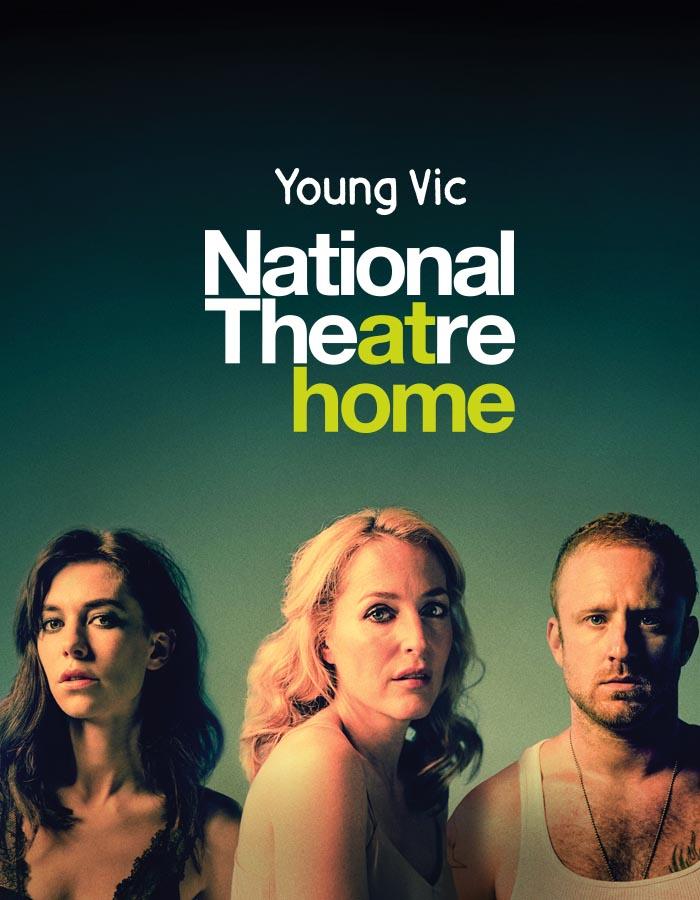 -
National Theatre At Home presents
A Streetcar Named Desire
Directed by Benedict Andrews
A Young Vic / Joshua Andrews co-production
From Thu 21 May at 7pm until Thu 28 May at 7pm
Running Time: 2 hours and 55 minutes with a very short interval
BBFC rating 15 when released in cinema. Contains scenes featuring sexual violence and domestic abuse.
Your home
National Theatre at Home: A Streetcar Named Desire
'I don't want realism. I want magic!'
Gillian Anderson (The X-Files, The Fall, Sex Education) plays Blanche DuBois with Ben Foster (Lone Survivor, Kill Your Darlings) as Stanley and Vanessa Kirby (The Crown, Mission Impossible 7) as Stella.
As Blanche's fragile world crumbles, she turns to her sister Stella for solace – but her downward spiral brings her face to face with the brutal, unforgiving Stanley Kowalski.
This acclaimed production, directed by Benedict Andrews, was captured live at the Young Vic in 2014 by National Theatre Live. You can watch it on the National Theatre's YouTube channel from 7pm UK time on Thursday 21 May for one week.
Support the Young Vic
We hope you enjoyed watching our co-production of A Streetcar Named Desire. Please consider making a donation to support the work of the Young Vic.
As a registered charity, the Young Vic relies on your support to continue our work on stage, in our local communities and beyond. Now more than ever, we need your help. Every penny that you donate comes directly to us. If eligible, you can even sign up for Gift Aid to allow us to reclaim 25p in every £1 donated, at no extra cost to you.
Whatever you are able to give, thank you.
Ways to donate
If you'd like to support us, you can DONATE HERE via our website or SIGN UP HERE to support our annual programme.
Donate via Text
Text 10YOUNGVIC to 70470 to donate £10
Text 20YOUNGVIC to 70470 to donate £20
UK networks only. Texts cost your donation amount plus one standard rate message
Would you like to find out how you can support the Young Vic, the work we do in our neighbourhood and on our stages? Sign up here!
By signing up to this alert you are agreeing to receive emails from the Young Vic about how you can support our work. For more information about how your data is processed and stored securely, please visit our privacy policy.
Did you know?
The Young Vic's critically-acclaimed productions of Cat on a Hot Tin Roof, A Streetcar Named Desire and Yerma are part of the National Theatre Collection – a resource which makes the best of British Theatre available worldwide to libraries, schools, universities and the wider education sector.
A Streetcar Named Desire is generously supported by Bruno Wang and an anonymous donor.
Production photography by Johan Persson.
Direction Benedict Andrews
Design Magda Willi
Costumes Victoria Behr
Light Jon Clark
Sound Paul Arditti
Music Alex Baranowski
UK Casting Maggie Lunn CDG and Camilla Evans CDG
US Casting Jim Carnahan CSA
With
Gillian Anderson, Clare Burt, Lachele Carl, Branwell Donaghey, Otto Farrant, Ben Foster, Nicholas Gecks, Troy Glasgow, Stephanie Jacob, Corey Johnson, Vanessa Kirby, Claire Prempeh