Neighbourhood Acting Programme is our free actor training programme during 2021, for people aged 25+ who live in the borough of Lambeth or Southwark. Across a year they engage in weekly sessions led by Toby Clarke and Lanikai Krishnadasan Torrens (Programme Assistant Director). The programme is supported by Masterclass sessions run by industry professionals in Theatre, Film and TV. This programme is one of our training and development programmes that are a part of Neighbourhood Theatre.
To sign up to our Neighbourhood Theatre mailing list please email neighbourhoodtheatre@youngvic.org with your name, home address, a contact phone number, and your date of birth.
If you are unable to sign up using email, please give us a call on 020 7922 2838.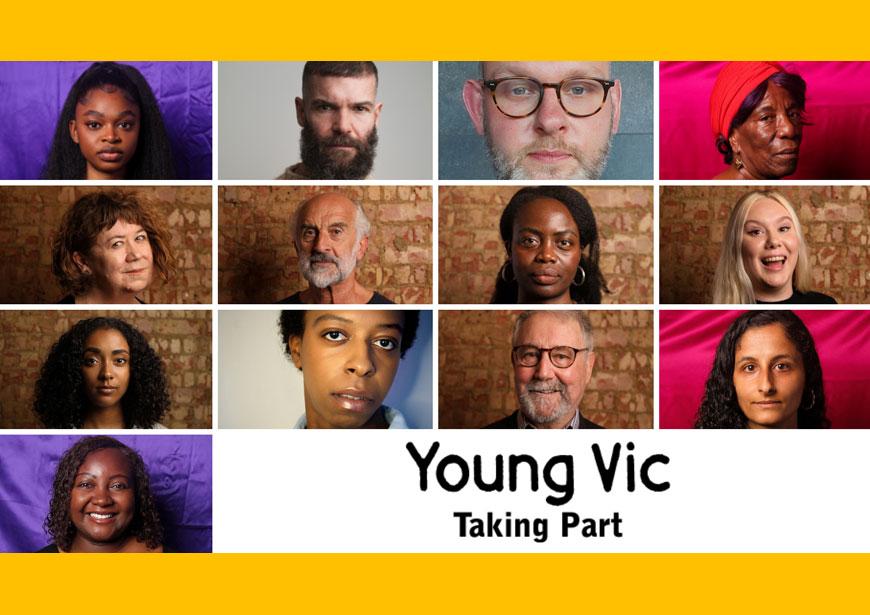 Showreels
In December 2021 the Neighbourhood Acting Company created their first professional showreel. The scenes are extracts from classic and modern plays by exceptional writers. All showreel material was directed by Toby Clarke and filmed by TEA Films.
Jennifer talks about the trauma and aftermath of a brutal attack from the play Yen written by Anna Jordan.
Video Warning: This video contains themes of violence and abuse. There are also references to blood.
Two women fight over the custody of a child in an extract from the play Top Girls written by Caryl Churchill.
Video warning: This video contains strong language.
Put under pressure to hug her daughter, a mother shares some hard truths in scene from Yerma written by Simon Stone.
A young woman confronts her childhood abuser in an extract taken from the play Blackbird written By David Harrower.
Video Warning: This video contains themes of sexual abuse against minors.
A daughter encouraging her father to give up his dreams of fame in The Crocodile written by Tom Basden.
This scene from The Crocodile, written by Tom Basden, shows a failing actor scolding his daughter when he discovers her plans to stage an intervention.
This scene from Three by Sophie Ellerby is about the art of sandwich making, stealing flowers and grief.
A mother attempts to give her daughter the "talk" after a wild night out. An extract from the play Jumpy written by April De Angelis.
A man is confronted by his past as he faces one of his victims. An extract from the play Blackbird written by David Harrower.
A male actor is coached through an audition by a predatory casting director in a scene from the play Shopping and Fucking written by Mark Ravenhill.
Video Warning: This video contains themes of sexual harassment.
A mother fights to keep her child out of the system in a scene from Mogadishu written by Vivienne Franzmann.
Two supermarket assistants create the ultimate romcom whilst stacking shelves in this comedic scene from Mad Margaret's Revenge by Lesley Ross.
Tom Relevitch delivers a monologue about a man recounting his experience of a lobotomy from The Caretaker by Harold Pinter.