For 20 years the Young Vic and Jerwood Arts have worked together to fulfil a shared mission: supporting artists and a resilient, dynamic industry. Our partnership has centred on an evolving assistantship program, giving early-career artists invaluable opportunities to learn alongside experienced artists on Young Vic shows.
Looking ahead, we are thrilled to announce the next iteration of our partnership as it expands to a new pathway.
We are one of 16 organisations being supported by the Jerwood Developing Artists Fund to deliver innovative, future-facing artist development programs.
The Jerwood Artist Development Pathway is a holistic program of industry entry points and progression routes for early-career artists. It will give artists the crucial support they need to ignite and sustain a creative career today: consistent opportunities to learn, a support network and a community of collaborators.
"Jerwood is a true ally for artists and the entire industry.

When starting out there is no greater gift than the space and community to think deeply about the kinds of stories you want to tell, how and why. Getting inside a rehearsal room, witnessing the dynamics of a creative team, learning alongside mentors and collaborators, is the depth of experience you need to step up and out as an artist on your own two feet.

Our long-term partner Jerwood Arts understands how fraught and opaque our industry can be for artists – now more than ever. We are deeply grateful to be one of 16 organisations Jerwood has chosen to drive our shared mission forward. With Jerwood Arts support, we will embed early-career artists at the heart of our work - as trainees, assistants, through craft development projects – nurturing our future theatre makers and the future of theatre itself.

I believe this pathway of opportunity is what will make the difference for this generation of artists and the next." - Kwame Kwei-Armah, Young Vic

"Finding the balance between change and continuity is a rare skill, but Sue Emmas and the team at the Young Vic have dug deep to reimagine what the pathways into creating theatre in all its forms needs to look like in 2023. Jerwood Arts is incredibly proud to have supported numerous early-career directors and designers to gain experience on Young Vic shows over the past two decades who have gone on to carve out extraordinary careers for themselves. We can't wait to see who will come through the next two years." - Lilli Geissendorfer, Jerwood Arts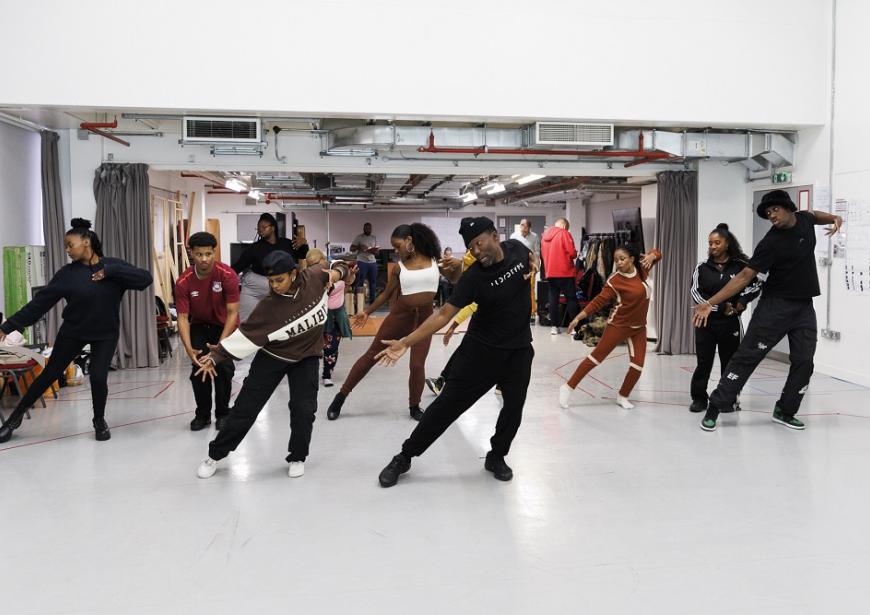 The Jerwood Artist Development Pathway includes:
Introduction to Making
In partnership with our Taking Part team, we will invite artists at the beginning of their creative journey (18-25 years) to explore storytelling and multi-disciplinary theatre making across a 12-month engagement with the Young Vic.
Introduction to Making includes three learning periods, ongoing artist networking and personalised support including career advice and use of our facilities. Participants will be invited to join the six-month progression project Fresh Direction, the Genesis Network and they can apply for Traineeships and Assistantships to further their creative development.
Trainee Assistantships give early-career artists a paid opportunity to observe the process of making a Young Vic show from the first day of rehearsals through to opening night.
Across a two-month placement, the Trainee will support the Assistant Director during rehearsals and previews, learning rehearsal techniques, etiquettes and absorbing creative dynamics in a supportive, developmental environment.
Trainee Assistants receive ongoing mentoring and tickets to see theatre. They will be invited to join a peer group of Trainee alumni, six-month progression project Fresh Direction and they can apply for Assistant positions.
Assistantships give an early-career artist the opportunity to learn from some of the most exciting and renowned artists working in theatre today. Across three months, the Assistant will support the lead creative of a show in rehearsals to previews and during the run. Each experience responds to the practice of the artist, the nature of the show and skill set of the Assistant. We provide further insights through a two-week placement in our building, and continued creative exploration with opportunities to curate and facilitate workshops.
Assistants will see work at the Young Vic and across the industry, and join a network of Assistant Alumni.
The Jerwood Artist Development Pathway will be activated alongside two-years of programming at the Young Vic, starting with Further than the Furthest Thing by Zinnie Harris directed by Jennifer Tang in March 2023. We received a record amount of applications for our first Trainee and Assistant positions, demonstrating the critical need for sustainable early-career opportunities in the current climate.
"Working as a Jerwood Assistant Director, and then Associate Director on queer musical FUN HOME at the Young Vic, enabled me to significantly develop my skill-set, skills I continue to use in my own work as a maker and director with Milk Presents today. The funding enabled for hands-on, direct training and responsibility, but with the security of having the team at the Young Vic with you every step of the way.

I am delighted to be running Introduction to Making for the Creators Program, specifically focusing on queer practice and developing participants own craft as makers and innovators."

- Leo Skilbeck, Artistic Director for Milk Presents and former Jerwood Assistant Director (2018).
Subscribe to the Genesis Network to be first to hear news on upcoming recruitment and artistic development opportunities.
The Young Vic's Jerwood Artist Development Pathway is supported by the Jerwood Developing Artists Fund.