The Young Vic presents: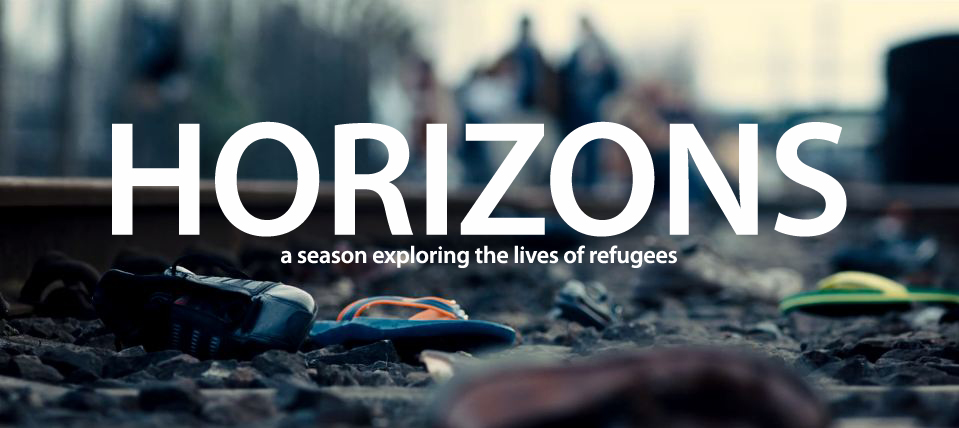 A new season across three strands of the Young Vic's work – productions on all three stages, on film and through Taking Part projects - is launched today.
A note from our Artistic Director, David Lan:
"Horizons is the Young Vic's response to the world as it is now. People in distress need help and they need to be heard. We want to provide a powerful means for audiences at home and abroad to connect with the political, social and human realities refugees face. These are the central stories of our age. We are thrilled and moved to be working with compassionate and fearless people, some of whom had never been to a theatre before, as well as writers and artists including Paul Mason, Ian Rickson, Deanna Rodger, Isango Ensemble, Joe Murphy and Joe Robertson.
We are delighted to welcome Good Chance to our home on The Cut as an associate company, and to be able to support the inspirational work of the Joes and their team. We are proud to have been recognized by City of Sanctuary with an award for our work with refugee communities. By becoming a Theatre of Sanctuary, we extend our commitment to raising awareness of the plight of refugees."
_
Horizons launches with the release of the Young Vic's latest short film,
" target="_blank">Astoria, written and directed by Paul Mason, former economics editor of Channel 4 News and BBC's Newsnight. It follows a Syrian refugee's journey to the West. Once there, an encounter with the past in a Budapest hotel draws a parallel between Europe's historical and current response to refugees.
We've also announced Now We Are Here (20 - 30 Jul) which tells the true stories of four LGBTI (lesbian, gay, bisexual, transgender and intersex) people, all asylum seekers and refugees living in the UK. Over eight months, they participated in a series of workshops at the Young Vic led by director Ian Rickson and in partnership with charity Micro Rainbow International. Now, working with award-winning poet and spoken word artist Deanna Rodger, four actors will bring these important stories of intolerance, belonging and courage to the Young Vic's Clare studio. The strictly limited run of performances will be free to attend. To book tickets, click here. We are welcoming donations to two charities, Micro Rainbow International and Room to Heal, chosen by our collaborators which work with refugees in the UK. Donations can be give online when booking free tickets or at our box office.
Previously announced work in the Horizons programme includes Queens of Syria, a multimedia production featuring an all-female cast of Syrian performing a new version of The Trojan Women, to the background of the award-winning documentary of their story. Queens of Syria is performed in Arabic and will tour the UK following its opening at the Young Vic (5 - 9 July). And A Man of Good Hope, co-produced with South Africa's Isango Ensemble and the Royal Opera House, brings to life Jonny Steinberg's extraordinary book about one refugee's journey from Mogadishu to Cape Town. A Man of Good Hope runs at the Young Vic from 6 Oct – 12 Nov. Tickets for both shows are on sale now.
We're also excited to announce that pioneering theatre company Good Chance will have a new base here at the Young Vic. As the company prepares to develop and continue its work with refugees, it will receive support from the Young Vic team. Joe and Joe said:
"We are thrilled to be working with the Young Vic. Having a home is so important. We know this from the people we work with. We are thankful to the Young Vic for giving us a home in London as we strive to build new theatres of hope."
We are also delighted to receive a Theatre of Sanctuary Award from City of Sanctuary. The Award recognises our past and current endeavours to raise awareness of refugee communities and to take action to welcome and include them in its activities.
Amongst other projects in recent months, in April 2016 the Young Vic hosted the free-to-attend Beyond Borders conference in association with Counterpoints Arts and Platforma. The day provided a chance for artists and companies to hear about the Young Vic's work with refugees and asylum seekers and to open up discussions on wider themes including pathways for artists from refugee and migrant backgrounds, how participatory work can link to a theatre's programming, and international connections between artists.
_
More on our Horizons announcement here: www.youngvic.org/horizons