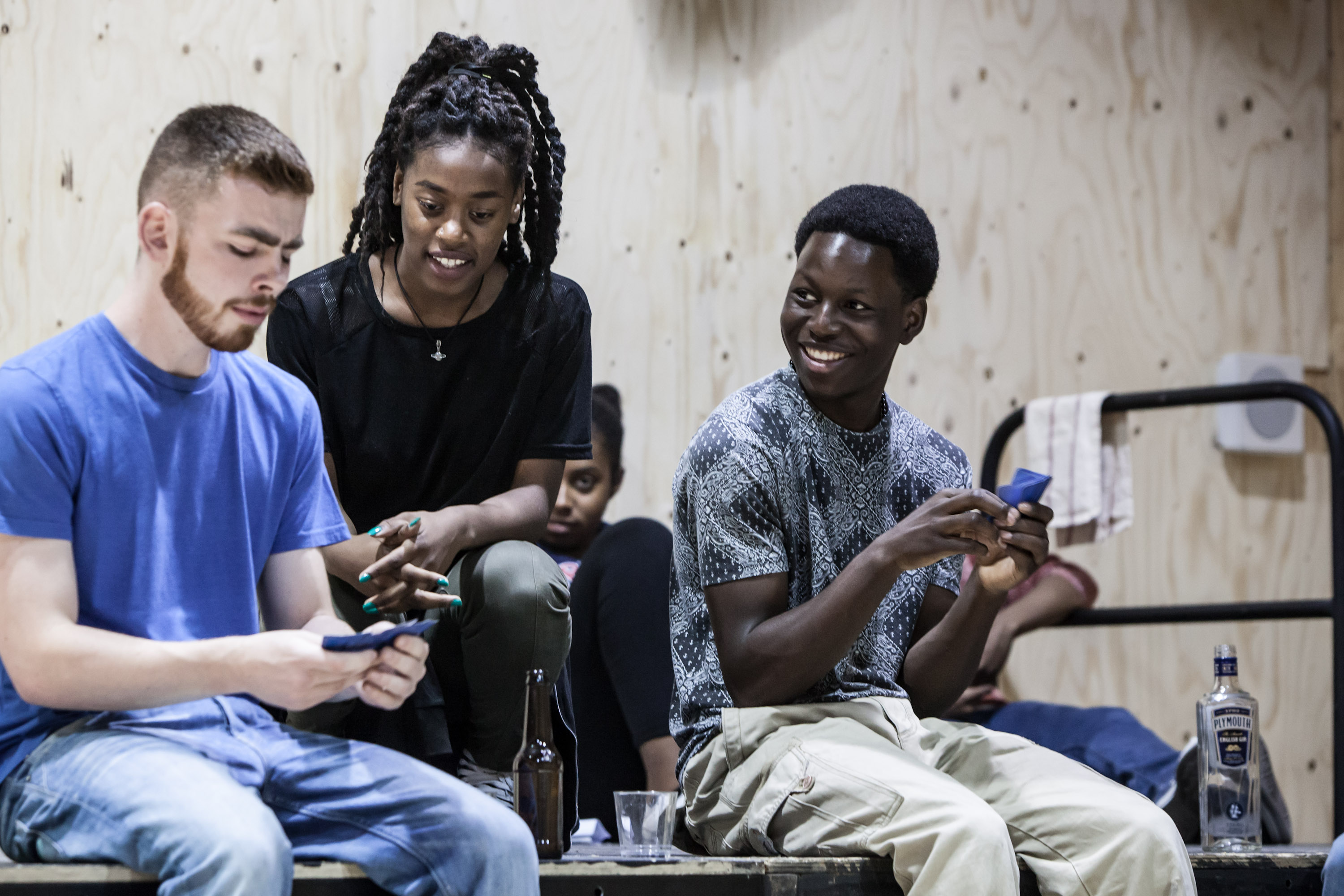 YV Elects is a series of eight events which suggests new ways to engage our neighborhood with the UK General Election ahead of polling day on Thursday 7 May 2015. Inspired by the high voter turnout at 2014's Scottish independence referendum, YV Elects hopes to inspire an increased engagement with politics – from voter registration to casting your vote.
A highlight of the series will be VoteSlam, an evening of live performance inspired by the democratic process on Saturday 18 April at 7.00pm. Seven award-winning spoken word artists, comedians and musicians will showcase their talents for one night only, compered by writer Francesca Beard.
Se below for more info about about each performer. To attend the event, please email yvelects@youngvic.org with VoteSlam in the subject line.
Bridget Minamore
In 2013 she was shortlisted to be the first Young Poet Laureate for London.She became an Associate Artist with her poetry collective, Rubix, at the Roundhouse, released their debut spoken word album RED on iTunes/Roundhouse Records in 2012. She has exhibited her work at a TEDxLondon conference, performed at 10 Downing Street to the Southbank Centre and the King's College Cambridge Women's Dinner.
" target="_blank">Deanna Rodger
Deanna is an international poet & facilitator, she leads on workshops in and around the UK including The Agency BAC and Slambassadors UK, she teaches the Writing Poetry for Performance module with Benjamin Zephaniah at Brunel University. She wrote and performed as a poet and actor in 2012 Olympic Team Welcome Ceremonies, Buckingham Palace, Speakers House, 10 Downing street and Honey Coated Dream and three TedX performances (Brighton, Southwark and East End). She is the youngest UK Poetry Slam Champion (2007/8). Furthermore she is the Co-founder of spoken word events: Chill Pill & Come Rhyme with Me, resident artist at Roundhouse Camden, member of prominent poetry collectives; Point Blank Poets (Biennale UK Artist International award 2011) and Keats House Poetry Forum.
Conrad Kira
Conrad is South London DJ/Rapper and Producer. He stays in ghost ridden abandoned buildings making beats that echo through the corridors. From building to building he goes performing his industrial compositions in cold kitchens. When Conrad's not lurking in London he abides in a secret hide out in Japan where he indulges in a life of Anime, Video Games, and Cheap Sake. "I like to be socially aware in my music but I also like to dance stupid and be a geek". Conrad spent his childhood listening to Kraftwerk, Adam Ant, Tupac and whatever else played in his Dad's car. However his biggest influence came from the Grime and Garage pirate radio stations, these are what drove him to want to write and make music.

Mae Martin
Finalist in the Hackney New Act of the Year Awards, along with Musical Comedy Awards and the Amused Moose Laughter Awards. Mae's appearance as the stand-up guest on Russell Howard's Good News (BBC 3) catapulted her into the consciousness of the UK's online teen community. Aged 16 made Canadian television debut on The Comedy Network's Cream of Comedy, Awarded Best international Performer at the Brighton Fringe. Aged 15, Mae received her first Canadian Comedy Award nomination.
Raymond Antrobus
A poet, photographer and lead educator on the Spoken Word Education MA Programme at Goldsmiths University. Born and bred in Hackney, he is a co-curator of London poetry events Chill Pill (Soho Theatre and The Albany) and Keats House Poets. His collection - Shapes & Disfigurements Of Raymond Antrobus, published by Burning Eye Books. He has done work that has appeared on BBC Radio 4, The Big Issue and recently in The Guardian and at TedxEastEnd. Anti-Slam Champion of 2010 & Farrago International Championship Slam 2008.
Thea Gajic
Actress & writer from South London, Thea has performed live at The Jazz Cafe, Camden in 2014. She recently performed at The Old Vic in Housed a play which highlighted the knock on effects of the housing situation in London. Thea's last piece of work Lawless was filmed on her iPhone; written, directed, acted and edited by herself.
Stuart Mackenzie
Film maker, writer and comedian from West London. A lot of Stuart's poetry has been inspired by his activism; he was a part of the London Occupation in 2011 and works alongside Maman Charlotte (founder of 'Mothers of Congo') to help bring an end to the Congolese War. Stuart is also a writer/director, his short films Spin-1/2 and Twin are currently in development and will be screened this year at the BFI Southbank Cinema. He is one half of Kool Beanz Productions and has a comedy sketch show alongside Nathan Bryon entitled The Mackenzie & Bryon Show 2.0. Stuart is also a singer, who records his own music and is a member of the band Shop Floor Sessions.
Francesca Beard
Malaysian-born, London-based artist Francesca Beard is a writer, performer and workshop facilitator. She has been a writer in residence at many institutions, including the Barbican, Hampton Court Palace, the Tower of London, the Natural History Museum, the Metropolitan Police and the BBC.  She runs one day workshops and master classes for all ages, as well as working on longer term projects with theatres and organisations, such as the Young Vic, The National, Creative Partnerships, Arvon, Spread the Word, Eastside and Booktrust. She represents British literature all over the world with the British Council and was lead artist on 'Speechless', a three year programme across East Asia which culminated in emerging poets from Vietnam, the Philippines, Malaysia, Singapore and Taiwan performing at the Royal Festival Hall. She has toured nationally and internationally as a solo artist, in various poetry collectives and with one woman shows Chinese Whispers. Her visits in the last year include performances and workshops in Khartoum, Kampala and Chengdu.
--
Other YV Elects events include political activist Peter Tatchell speaking on political activism on Tuesday 31 March at 4.00pm. Economics Editor at Channel 4 News Paul Mason sharing his thoughts in a talk entitled 'Austerity – the basics' on Thursday 2 April at 1.00pm.  This will be followed by a Q&A session with audience members.
On Friday 17 April at 7.00pm there will be a hustings for parliamentary candidates fighting for a seat in the Young Vic's constituency of Bermondsey and Old Southwark. There will be also be three Theatre Club sessions which will provide a relaxed forum for group discussion of the policies and personalities involved in the election. The first, on 9 April, will discuss responses to the provocation 'Why Vote?'.  On 23 April, participants are invited to debate the role of arts and culture in the election. The final Theatre Club will take place on 6 May – the eve of the election – and the focus will be thrown open to the floor, a last chance to discuss issues of personal and political significance.
On 9 April people of all ages are invited to drop in to the Young Vic from 11.00am – 5.00pm where information on the election will be available. This hub will provide material on the local and national parties; voter registration forms; information on why each vote counts; and a UK election timeline.
All events are free and will take place from 31 March – 6 May at the Young Vic theatre.
To apply for tickets for all YV Elects events, email yvelects@youngvic.org with the name of the event and date in the subject line at least 7 days before the date of the event you wish to attend.