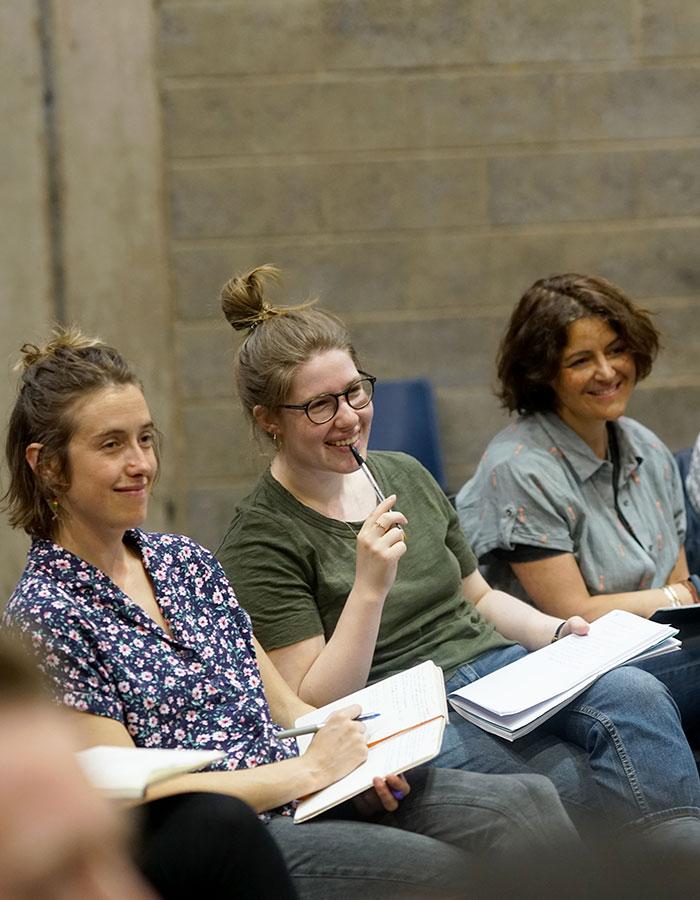 Breaking Down the Doors
In partnership with Jerwood Arts
Speakers: Chris Sonnex & Matthew Xia
Thursday 23 Jan, 4pm-6pm
Is the performance you want sold out?
Try our Ticketing Tips
Tickets are FREE but must be booked in advance
Maximum of 2 tickets can be booked per person
The Maria
Breaking Down the Doors
In partnership with Jerwood Arts
YV:IDemystify is a series of free events for theatre makers to promote the sharing of best practice models, help open up new pathways in the industry and aid people in navigating their creative journeys.
This event looks at innovative ways into forging a creative career. It will begin with two creators of work who came to realise that received or set paths needed rethinking, and who went on to create their own best circumstances for the work they wanted to make or see made. Creators who chose, rather than knocking on doors, to create their own doors. Speakers Chris Sonnex & Matthew Xia will lead an informal, in-the-round conversation, intended to kick start sharing, questions and experiences from the group.
Breaking Down the Doors has led to Artistic Directors coming together to talk about what their jobs really entail including Christopher Haydon (Rose Theatre), Lisa Spirling (Theatre 503), Roy Alexander Weise (Royal Exchange Theatre) and Lynette Linton (Bush Theatre). #ADRealness has been covered by the Evening Standard.
'YV:IDemystify started with a question: how do we create a more transparent theatre sector? A sector that is more supportive of our creators and makers? More honest about the cost – and that's not just the financial cost – of creative work. I am delighted that an influential collective of industry partners and speakers will join us to shape this series, as it is through conversation that we can truly begin to demystify what is so often an opaque industry.' - Kwame Kwei-Armah, Young Vic Artistic Director
In partnership with Jerwood Arts
Speakers: Chris Sonnex & Matthew Xia
Jerwood Arts is the leading independent funder dedicated to supporting UK artists, curators and producers to develop and thrive. It enables transformative opportunities for individuals across art forms, supporting imaginative awards, bursaries, fellowships, projects, programmes and commissions. It presents new work and brings people from across the arts together through its exhibitions and events in London, as well as across the UK.
Chris Sonnex is Artistic Director of the Bunker Theatre; previously Chris was Artistic Associate for The Royal Court. Selected directing credits include We Anchor In Hope (Bunker Theatre), Katzenmusik (Royal Court Theatre Jerwood Theatre Upstairs), Tottenham Symphony (Beyond The Court), The Boys Project: The Undergrowth (Royal Court Theatre Jerwood Theatre Upstairs), Link Up (Beyond The Court), Pimlico Playground: Radio Plays (Beyond The Court), Take The Stage (Donmar Warehouse Discover), Reimagining Summer & Smoke & Summerversity (Almeida Participation) and with Synergy Theatre Project HMP/ YOI Isis. Chris is also working to create and direct a VR360 film with The National Theatre Studio Digital Department. Chris has also composed for The Royal Court with Tottenham Symphony and Drinking Concrete: a theatre concept album.
Matthew Xia is Artistic Director of ATC (Actors Touring Company) as well as Associate Artist at Nottingham Playhouse; previously Matthew was Associate Artistic Director at the Royal Exchange Theatre Manchester and Interim Associate Director at Theatre Royal Stratford East. Recent directing credits include Amsterdam (ATC & Orange Tree Theatre), Eden (Hampstead Theatre), Blood Knot (Orange Tree Theatre), One Night in Miami… (Nottingham Playhouse, HOME & Bristol Old Vic), Frankenstein, Brink, Into the Woods and Wish List (all Royal Exchange), Blue/Orange, The Sound of Yellow and Sizwe Banzi is Dead (all Young Vic, where he was a Genesis Future Directors Award winner), Shebeen (Nottingham Playhouse), Dublin Carol (Sherman Theatre Cardiff) and Sleeping Beauty (Theatre Royal Stratford East). Matthew is a founding member of Act For Change, sat on the judging panels for the Bruntwood Prize for Playwriting and the Alfred Fagon Award, and received a Regional Theatre Young Director Scheme placement at the Liverpool Everyman and Playhouse. Matthew was awarded an Honorary Doctorate from the University of the Arts London in 2019. He is also a DJ, composer and sound designer under the pseudonym Excalibah.