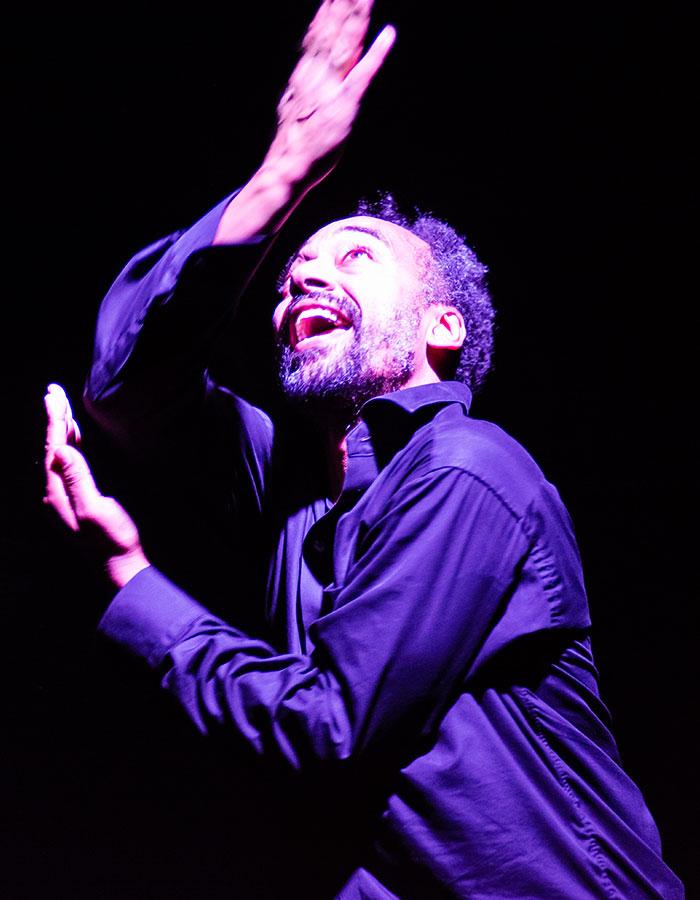 -
A Crying in the Wilderness Production in association with the Young Vic
Conundrum
Written & Directed by Paul Anthony Morris
Mon - Sat, 7.45pm
Thu & Sat matinees, 2.45pm
Opening Night:
Wed 19 Jan, 7pm
Socially Distanced Performances:
Thu 27 Jan, 2.45 pm
Sat 29 Jan, 2.45 pm
Thu 3 Feb, 2.45 pm
The Maria
This evocative new drama, written and directed by Paul Anthony Morris, dives headlong into a powerful exploration of one man's trajectory of embracing then owning self-acceptance.
Anthony Ofoegbu (Barber Shop Chronicles) plays Fidel, who prompted by old diary entries, conducts a personal life review to identify his greatest challenges. Possessing an unusually high IQ and initially critiquing society, Fidel becomes alarmed by the prospect that he too, is responsible for undermining his own wellbeing. Perplexed by this conundrum, Fidel embarks on a reflective journey seeking answers to some of life's most relatable questions: Who am I and why am I here?
Fidel is first generation Black British, born in the 1960s. Navigating the educational system of the 1980s and society's expectations and pressures, he recollects a series of encounters with teachers, family, friends and psychiatrists. Fidel's strengths and vulnerabilities are tested as he reclaims, piece by piece, his core identity and value.
Show Warnings
This show contains themes of racism, grief and bereavement, mental and physical illness, blood and violent images.
Image Credit: Sarah Hickson
Crying in the Wilderness Productions and this production of Conundrum is supported by Arts Council England. Conundrum has also been supported by Black Thrive Global, Thrive London, Certain Blacks, Creative Elements, Honey Tongued Productions, NDT Broadgate, Nomad Creative Consultancy, Royal Victoria Hall Foundation and Adopt A Playwright Award, as well as their generous team of crowdfunders and donors.
Writer & Director Paul Anthony Morris
Associate Director Angela Ekaette Michaels
Set Designer Sean Cavanagh
Lighting Designer Jack Weir
Choreographer Shane Shambhu
Photographer Sarah Hickson
Video Cameraperson & Editor Florian Bel
Production Manager Sean Tomas Ford
Company Stage Manager Marie-Angelique St. Hill
Producer Emma Shaw
Press Anna Goodman
Marketing Lucy White
With Anthony Ofoegbu, Filip Krenus, and Rachel Summers
Audio Described performance: Thu 27 Jan, 2.45pm
Captioned performance: Sat 29 Jan, 2.45pm
Socially Distanced Performances:
Thu 27 Jan, 2.45 pm
Sat 29 Jan, 2.45 pm
Thu 3 Feb, 2.45 pm