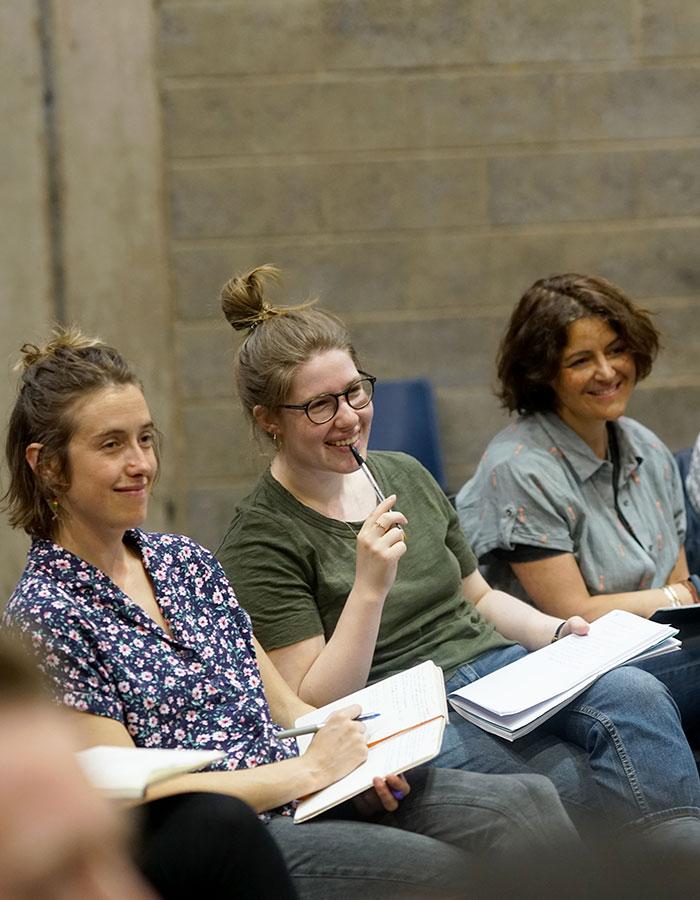 Directing and Dramaturgy
In partnership with the Young Vic Directors Program
Friday 14 Feb, 4pm-6pm
Is the performance you want sold out?
Try our Ticketing Tips
Tickets are FREE but must be booked in advance
Maximum of 2 tickets can be booked per person
The Clare
Directing and Dramaturgy
In partnership with the Young Vic Directors Program
YV:IDemystify is a series of free events for theatre makers to promote the sharing of best practice models, help open up new pathways in the industry and aid people in navigating their creative journeys.
This event sees Zoë Svendsen in conversation with Jacqui Honess-Martin looking at dramaturgy as an integral part of the development of a production, including, but not limited to, work on text. Which dramaturgical tools should be in a creator's toolkit? How do dramaturges help create a show? And how do dramaturges help shape European theatre?
Tickets are FREE, but must be booked in advance. A maximum of 2 tickets can be reserved per person.
'YV:IDemystify started with a question: how do we create a more transparent theatre sector? A sector that is more supportive of our creators and makers? More honest about the cost – and that's not just the financial cost – of creative work. I am delighted that an influential collective of industry partners and speakers will join us to shape this series, as it is through conversation that we can truly begin to demystify what is so often an opaque industry.' - Kwame Kwei-Armah, Young Vic Artistic Director
In partnership with the Young Vic Directors Program
Speakers Zoë Svendsen & Jacqui Honess-Martin
Zoë Svendsen directs the performing arts company METIS, making participatory theatre performances and installation works exploring contemporary political subjects, including: video installation, Factory of the Future (Oslo Architecture Triennale 2019); participatory performance event, WE KNOW NOT WHAT WE MAY BE (Artsadmin Green Commission, Pit Theatre at the Barbican Centre 2018); theatre show World Factory, exploring consumer capitalism through the lens of the global textile industry (Young Vic, London and UK tour; shortlisted for the Berlin Theatertreffen Stückemarkt 2016); interactive show, 3rd Ring Out (TippingPoint Commission Award; UK tour). As dramaturg Zoë has worked on a variety of classic texts, including: A Midsummer Night's Dream, Measure for Measure and The Changeling (Young Vic); Miss Julie (Aarhus Theatre, Denmark); Macbeth and Arden of Faversham (Royal Shakespeare Company); Edward II (National Theatre). Zoë is an Associate Artist at Cambridge Junction, and Artistic Associate at the New Wolsey Theatre, Ipswich. Zoë lectures on dramaturgy and performance at the University of Cambridge, and her work has been developed in several artistic residencies, including at the Max Planck Institute for the History of Science, Berlin, and the Cambridge Conservation Initiative, David Attenborough Building, Cambridge. Zoë is currently writing Theatre & Dramaturgy for the Palgrave Macmillan series Theatre &.
Jacqui Honess-Martin is Literary Associate at Leeds Playhouse where she leads on dramaturgy and commissioning. She is also a playwright and theatre director. Her directing credits include: Be My Baby (Leeds Playhouse), Not Such Quiet Girls (Leeds Playhouse/Opera North); Blackthorn (Leeds Playhouse/Paines Plough Roundabout); Abyss, Larisa and the Merchants (Arcola Theatre); We Have Fallen (IdeasTap Underbelly Award, Edinburgh); SMITH (The British Museum); Antigone (Walworth Council Chambers). Her assisting credits include: People (National Theatre); Arcadia (West End) and The Faith Machine (Royal Court Theatre). Writing credits include: Tell Out My Soul (Public Theatre New York) and Pine (Hampstead Theatre).