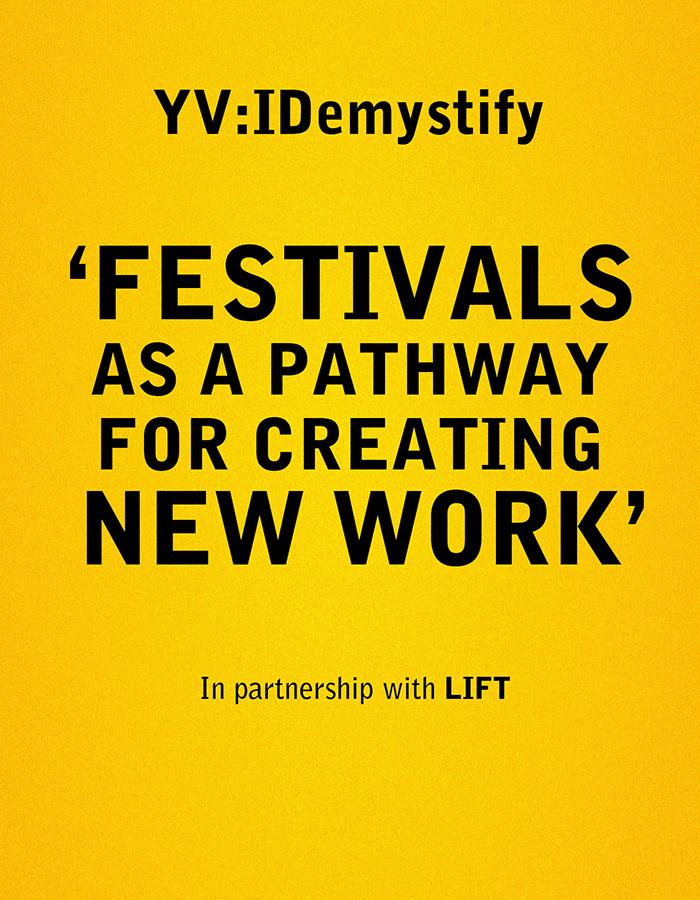 Festivals as a Pathway
for Creating New Work
Thursday 28 May, 10am-12pm
Tickets are FREE but must be booked in advance
Maximum of 2 tickets can be booked per person
Online
Festivals as a Pathway for Creating New Work
In partnership with LIFT
Please note: in light of the current social distancing measures, this event will now be taking place on Thu 28 May, 10am-12pm in a new digital format. All bookings are still valid, bookers will be contacted via email with details of how to join the online stream.
YV:IDemystify is a series of free events for theatre makers to promote the sharing of best practice models, help open up new pathways in the industry and aid people in navigating their creative journeys.
This event looks at making work for theatre festivals, and addresses how creators of work respond to festival contexts, how shows are proposed and developed within these, how originators of work interact with the curated nature of festivals, and how they may subsequently take their work further.
This event will see Anna Breckon and Nat Randall (co-creators The Second Woman) in conversation with Malik Nashad Sharpe (Fairview). Curated by LIFT's artistic director Kris Nelson and convened by YV Creative Associate Teunkie Van Der Sluijs.
'YV:IDemystify started with a question: how do we create a more transparent theatre sector? A sector that is more supportive of our creators and makers? More honest about the cost – and that's not just the financial cost – of creative work. I am delighted that an influential collective of industry partners and speakers will join us to shape this series, as it is through conversation that we can truly begin to demystify what is so often an opaque industry.' - Kwame Kwei-Armah, Young Vic Artistic Director
Anna Breckon is an independent artist, filmmaker, film studies scholar, and critic. She has a PhD in queer and feminist film theory from The University of Sydney. Her thesis considers queer politics of happiness in a selection of contemporary auteur films. Anna has published on John Waters (2013) and Todd Solondz (2018) in Screen (Oxford University Press). Anna has worked as a director and writer for projects presented at The Museum of Contemporary Art, Performance Space, Dark Mofo, Perth Festival, Adelaide Festival, Weiwuying: National Kaohsiung Center for the Arts (Taiwan), Harbourfront Centre (Toronto), BAM (New York) and The Australian Centre for Contemporary Art. Anna is currently completing a manuscript on the queer politics of happiness.
Nat Randall is an artist working at the intersection of performance, video and film. Randall has presented work at major institutions, galleries and festivals nationally and internationally. In 2019 Randall and collaborator Anna Breckon and Performing Lines were nominated for a Helpmann Award for 'Best Production of a Play' for their critically acclaimed The Second Woman. Randall is also a founding member of art collective Hissy Fit and performance collective Team MESS. Through these collaborations she has presented work extensively across Australia. Randall studied at the University of Wollongong where she developed a breadth of performance practice including devised work, site specific practice and participatory work.
Malik Nashad Sharpe is a choreographer, dancer, and movement director whose work looks at the production of ontology, affect, and subjectivity from the perspective of marginalisation. Often working with the undercurrent, underneath, subversive, and ulterior aspects of what it means to be both a human, and dehumanised, their work has often topically explored themes around sexual assault, melancholia and melancholic subjectivity, nationalism, authoritarianism, the advent of the spectacle of Black death (the persistence of images both in media and culture of Black people being killed/dying), solidarities across borders and identities, the protestation in joyousness, amongst many other topics. Creating under their prolific alias marikiscrycrycry, their performance practice with a cult following in London's underground performance scene, their work has been presented in theatres, galleries, and festival contexts, including Fierce Festival (UK), American Realness (USA), Submerge Festival at BAC (USA), Block Universe x EWerk Luckenwalde (DE), Impulstanz at Schauspielhauals (AT), BUZZCUT at CCA Glasgow (UK), NOW Festival at The Yard Theatre (UK), at Montreal arts et interculturels (CA), Theatre La Chapelle (CA), Menagerie de Verre (FR), The Place (UK), Panoply Performance Lab (USA), Steakhouse Live at Rich Mix (UK), Queer and Now at Tate Britain (UK), Tramway (UK), NottDance at Nottingham Contemporary (UK), Beursschouwburg (BE), Les Urbaines Lausanne (CH), Duckie (UK), Marlborough Pub and Theatre (UK), Theatre in the Mill (UK), Transmission Gallery (UK), Quarterhouse Folkestone (UK), Toronto Community Love-In at Pia Bouman Theatre (CA), Attenborough Centre for Creative Arts (UK), Cambridge Junction (UK), amongst many others.
LIFT, London's leading festival of international theatre has been at the forefront of ground-breaking international theatre since 1981, making and supporting adventurous, exhilarating performance that disrupts convention, has the power to unite strangers, celebrates our shared humanity and explores the political and social urgencies of our times. LIFT travels the world to bring global stories to London for its biennial festival, creating spectacular performances and moments of magic in every corner of the Capital and presenting shows in partnership with London's major arts venues, theatres and galleries, but also in countless hidden spaces and places across the city.