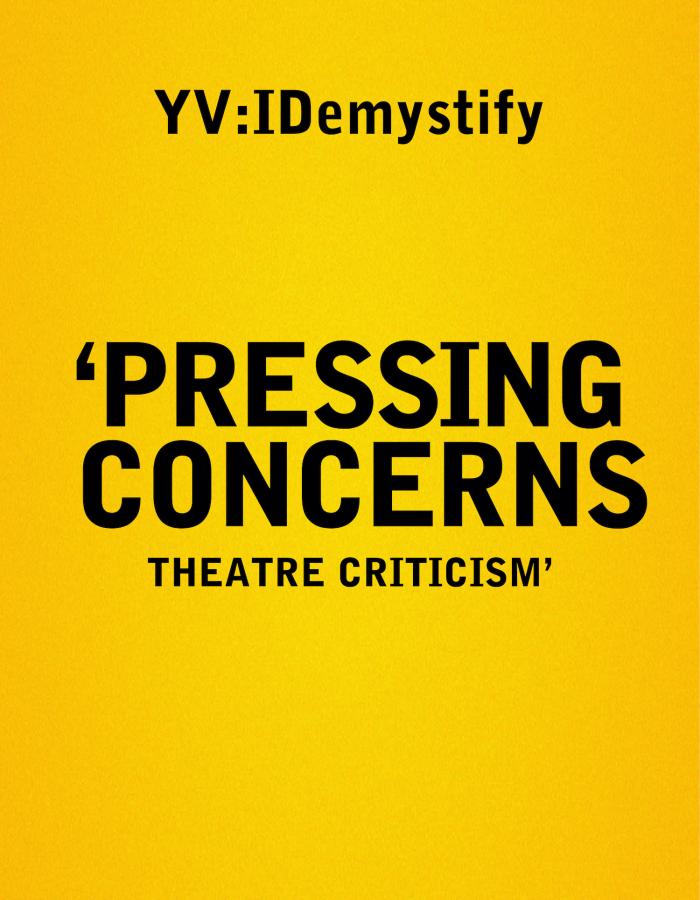 Pressing Concerns
Wednesday 3 March, 4pm-6pm
Free, one ticket per person
Sold out? See below for wait list information
Online
Can't book tickets?
Due to popular demand, this event, 'Pressing Concerns', is now full. If you'd like to be added to our waiting list for a ticket, please drop an email to boxoffice@youngvic.org with the subject line "Pressing Concerns – Waiting List", to be added.
We will be in touch if we are able to allocate you a ticket. Please bear in mind tickets may only become available a short time before the event if due to take place.
About
This event aims to demystify the relationship between critics and creators of work. While criticism is an important part of theatre ecology, it is itself increasingly critiqued, and the reviewer reviewed. With a recognized need for more diversity in the stories told on our stages, how do we ensure an equivalent diversity of critical opinion? And with new types of work, and the nature of live performance changing – including a current environment of live performance existing almost solely in the digital sphere – should new forms demand new ways of critical engagement?
At the same time, the critical community faces its own difficulties – and shrinking print coverage of our industry affects both creators and reviewers. And as the theatre sector attempts to survive the pandemic and rebuild, how do we future-proof theatre criticism?
By bringing together and opening a conversation between parties that don't usually talk to each other, we hope to break down the imaginary wall between the artist and the reviewer. To hold to light their mutually dependent relationship, unpack the impact and power of reviews, and think through the challenges to theatre reviewing and critical discourse for the future.
This event will see critics Arifa Akbar, Dominic Cavendish
and Natasha Tripney in discussion with director Suba Das and designer Anna Fleischle, convened by Young Vic Creative Associate Teunkie Van Der Sluijs.
Dominic Cavendish has been the lead theatre critic for the Daily Telegraph since 2014. He joined the paper to write about theatre and comedy in 2000, having worked on the Independent, and Time Out magazine. He is the founding editor of the website theatrevoice.com, the UK's biggest online audio archive related to British theatre, run in conjunction with the Victoria and Albert Museum.
In 2008, he adapted and produced George Orwell's Coming Up For Air - the UK stage premiere of the novel; the Edinburgh production transferred to Trafalgar Studios the following year. He co-conceived and contributed to Coalition, a short play festival about the new government, at Theatre503 in 2010, and later contributed to similar 503 initiatives - Hacked, about the hacking scandal (2011), and Thatcherwrite (2013), reflecting on the death of Margaret Thatcher.
Arifa Akbar is chief theatre critic for The Guardian. She was previously the literary editor of The Independent where she also worked as a news reporter and arts correspondent for fifteen years. She is on the board of the Orwell Foundation and her first book, Consumed: A Sister's Story, is published in June.
Natasha Tripney is the reviews editor and joint lead critic at The Stage. She's the co-founder of Exeunt magazine, an online platform for theatre criticism, and has written about theatre and the arts for the Guardian, Independent, Time Out and the BBC.
Suba Das is Artistic Director of HighTide. He is also an award-winning theatre director, producer and dramaturg. 2020 saw the revival of his production of Sukanya, the only opera by the legendary Ravi Shankar, which premiered to critical acclaim. Other recent productions include Cat In The Hat for Leicester Curve at Rose Theatre Kingston, and The Importance of Being Earnest at the Octagon Bolton. He has also directed for The Gate Theatre, Northern Stage, Nottingham Playhouse, Young Vic, Underbelly Edinburgh and the Roundhouse. Born in Newcastle, he read English at Cambridge University and trained on the prestigious Birkbeck MFA in Theatre Directing. On graduating he won the Old Vic New Voices TS Eliot US/UK Award and became Director in Residence at the National Theatre Studio.
Anna Fleischle is an award-winning set and costume designer for live performance including theatre, dance and opera. Her awards include an Olivier Award, Critics' Circle Best Designer Award and Evening Standard Award.
Anna grew up in Munich, Germany but has spent all her adult life living in London. The meeting of the two different cultures is always present in her life and work. Anna is interested in the continual exploration and development of different forms of story-telling and her way of expression through space. Her career has been based around seeking the collaborations she wanted to explore - always being intrigued and inspired by different approaches and ways of working.
Live captioning for this event will be provided by Otter.ai