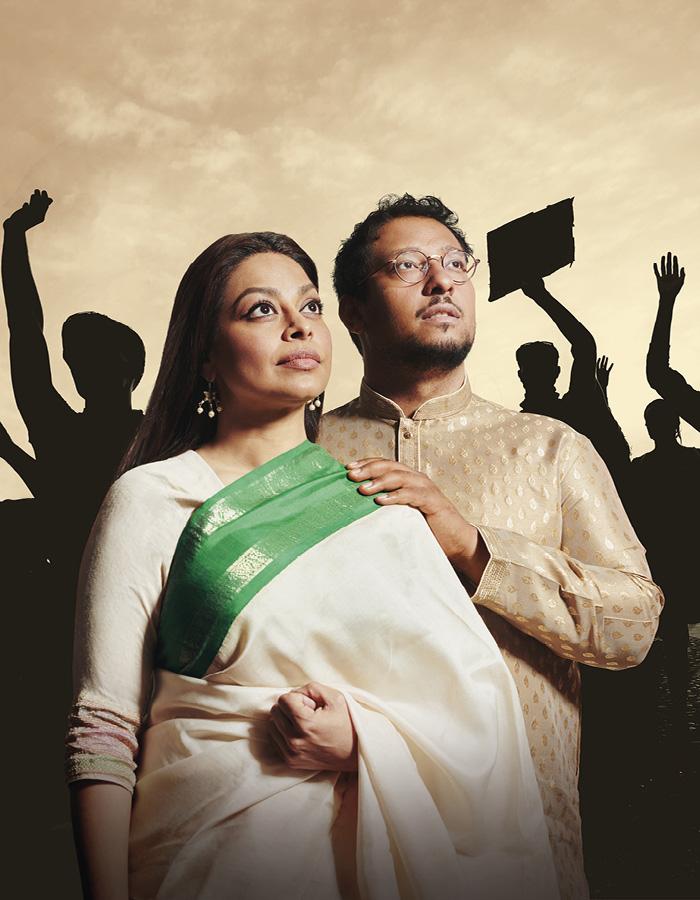 -
A Young Vic and Theatre Uncut co-production
Chasing Hares
Written by Sonali Bhattacharyya
Mon - Sat, 7.30pm
Wed - Sat matinee, 2.30pm
Previews: 16 - 23 Jul
£50/£35/£22.50/£12.50
Previews: £40/£30/£22.50/£12.50
Main House
★★★★★ "Seamlessly yokes the personal to the political in sparkling dialogue"
The Telegraph
★★★★ "Plays out like a thriller"
The Guardian
★★★★ "Heartfelt and memorable"
Broadway World
"I'm not political. Not at all. Never have been. I'm a company man."
2000s Kolkata. The Khub Bhalo factory is on lockdown and no one's getting paid. Prab is caught between joining the picket line and the need to provide for his family. When the boss' son ropes Prab into reinvigorating his failing folk theatre troupe, Prab seizes the opportunity to expose the injustice of factory conditions and child exploitation. Is he ready to risk his future, his family and even his own life to fight for change?
Winner of Theatre Uncut's Political Playwriting Award, the world premiere of Sonali Bhattacharyya's Chasing Hares is directed by Milli Bhatia (seven methods of killing kylie jenner).
Disrupting the Diaspora: Radical South Asian Organising in the UK
Tue 9 Aug, from 9.45pm in the Clare – free to all same-day ticket-holders (first come first served)
Join us for a post-show discussion about South Asian activism in the UK, in our communities and in our workplaces, from the 70s to today.
With writer and activist Amrit Wilson, migrant solidarity and trade union organiser Amardeep Singh Dhillon and activist and writer of Chasing Hares, Sonali Bhattacharyya.
With free snacks, drinks and political discussion!
Running time: 1hr incl a 30 minute panel discussion.
DAYTIMERS: A Night Celebrating South Asian Artistry
Sat 13 Aug 9.45pm-11:30pm - free event (open to all)
Celebrate the final performance of Chasing Hares with a special DJ set from Daytimers, the creative collectives who champion artistry from the UK's South Asian diaspora. Enjoy a night of bhangra, garage and jungle post-show in The Cut Bar.
Show Warnings

Toggle

Chasing Hares contains themes of grief and bereavement, death, and abuse and cruelty - specifically child labour exploitation. There are references to sexual misconduct, as well as to discrimination in contexts of race, class and social inequity. The production contains strong language, blood, cigarettes and there are scenes depicting violence, torture and the injured body of a minor. There is use of flashing lights, total blackouts, smoke, haze, loud music and sudden loud noise

Running Time

Toggle

Approx. 2 hours 5 minutes (including an interval)

Digital Programme

Toggle

Pre-Show Information (PDF Version)

Toggle

Audio Introduction

Toggle
Chasing Hares is generously supported by Patrick Handley & Louis Deshpande.
Artwork photography by Rosaline Shahnavaz
Design by Émilie Chen
Rehearsal photography by Helen Murray
Production photography by Isha Shah and Akhila Krishnan
Writer Sonali Bhattacharyya
Director Milli Bhatia
Designer Moi Tran
Lighting Designer Jai Morjaria
Video Designer Akhila Krishnan
Sound Designer Donato Wharton
Composer Sarathy Korwar
Movement Director Chi-San Howard
Voice and Dialect Coach Gurkiran Kaur
Fight Director Bret Yount
Casting Director Polly Jerrold
R and D Dramaturg Guy Jones
R and D Lyric Consultant Jammz
Assistant Director Ashen Gupta & Nikhil Vyas
Trainee Assistant Director Tia Ali
With Ayesha Dharker, Zainab Hasan, Scott Karim, Saroja-Lily Ratnavel, and Irfan Shamji
BSL Performance: Fri 29 Jul, 7.30pm
Audio Described Performances: Tue 2 & Tue 9 Aug, 7.30pm
Relaxed Performance: Wed 3 Aug, 7.30pm
Captioned Performance: Thu 4 Aug, 7.30pm
Socially Distanced Performance: Mon 8 Aug, 7.30pm
Audio Described by Eleanor Margolies
BSL Interpreter Chandrika Gopalakrishnan
Captioned by Miranda Yates