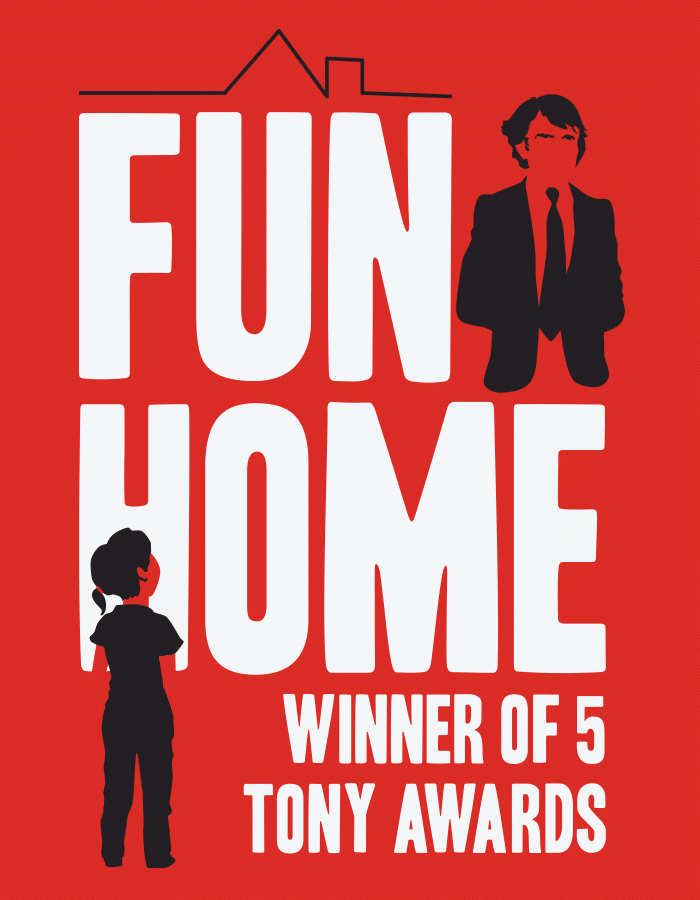 -
Fun Home
Music by Jeanine Tesori, Book & Lyrics by Lisa Kron
Based on the graphic novel by Alison Bechdel
Monday - Saturday: 7.30pm
(except 27 June, 27 Aug)
Wednesday & Saturday Matinees: 2.30pm
(except 20, 23, 27 June)
Approx running time: 1hr 40min with no interval
Tickets for Fun Home are now sold out. Limited tickets are available through a TodayTix Lottery and we are operating a returns queue before every performance.
£10, £20, £30, £40
Previews: (18 - 26 June) £10, £20, £25
Main House
This production is generously supported by Mr Bruno Wang & Pure Land Foundation.
★★★★★ 'A groundbreaking masterpiece' The Independent
★★★★★ 'Quirky, haunting, heartbreaking' The Telegraph
★★★★★ 'Sam Gold's production is remarkable' The Observer
★★★★★ 'Tremendous. A dazzling musical' FT
★★★★★ 'A jaw-dropping, tear-jerking musical' Time Out
★★★★ 'Beautifully performed - takes musicals in new directions' The Guardian
★★★★ 'A finely woven blend of yearning and euphoric fantasy' Evening Standard
★★★★ 'A milestone in musical theatre' Sunday Express
Winner of 5 Tony Awards, this electrifying Broadway version of Alison Bechdel's graphic novel took America by storm.
Meet Alison at three stages of her life.
Memories of her 1970s childhood in a funeral home merge with her college love life and her coming out.
Looking back on her complex relationship with her father, Alison finds they had more in common than she ever knew...
★★★★★ 'An incredibly radical show - quietly revolutionises the musical form' The Stage
★★★★★ 'It reaches a level of emotional honesty that other musicals just don't begin to touch' What's On Stage
Alison Bechdel in conversation with Sofie Hagen
Direction Sam Gold
Choreography Danny Mefford
Set and Costume David Zinn
Light Ben Stanton
Sound Kai Harada
Orchestrations John Clancy
Music Supervisor Chris Fenwick
Musical Director Nigel Lilley
Casting Julia Horan CDG
Associate Director Portia Krieger
With Kaisa Hammarlund, Eleanor Kane, Jenna Russell, Ashley Samuels, Cherrelle Skeete, Zubin Varla and Brooke Haynes, Eddie Martin, Charlie McLellan, Ramsay Robertson, Archie Smith, Harriet Turnbull
Alison Bechdel discusses what to expect from the hit musical based on her graphic novel with The Sunday Times
Fun Home playwright Lisa Kron explains why time has been on Fun Home's side with the BBC
Hear Alison Bechdel reflect on the creation of Fun Home on Radio 4's Woman's Hour
Cast member Cherrelle Skeete talks to Afridiziak about playing Joan in Fun Home.
Jenna Russell on why we need more lesbian characters on stage and the power of musicals as an art form. Read her interview with The Independent here
Composer Jeanine Tesori spoke to The Stage about her career and influences, and adapting Fun Home for the stage - check it out here
Production photos are here! Take a peek on What's On Stage
'Let's hope proper lesbian representation continues for long enough to stop being a "moment"' - read about how Fun Home is putting lesbian narratives centre stage in The Telegraph
Time Out says Fun Home is one of the top ten shows to look out for this month here
Fun Home makes the Evening Standard's top ten shows in June - read more here
Rehearsal photos for Fun Home are here! Have a peek on Broadway World
'Why do lesbians remain largely invisible in theatre?' Fun Home mentioned in this Evening Standard piece on queer representation - read more here
Fun Home is one of the Evening Standard's top musicals for 2018 - read more here
Fun Home creator Alison Bechdel on turning a tragic childhood into a hit musical. Read her interview with The Observer here
Fun Home to have UK premiere as part of Young Vic's new season. Read more on The Stage
Fun Home dates confirmed for new Young Vic season. Read more on What's On Stage
Captioned performance 19 July, 7.30pm
Audio described performance 27 July, 7.30pm