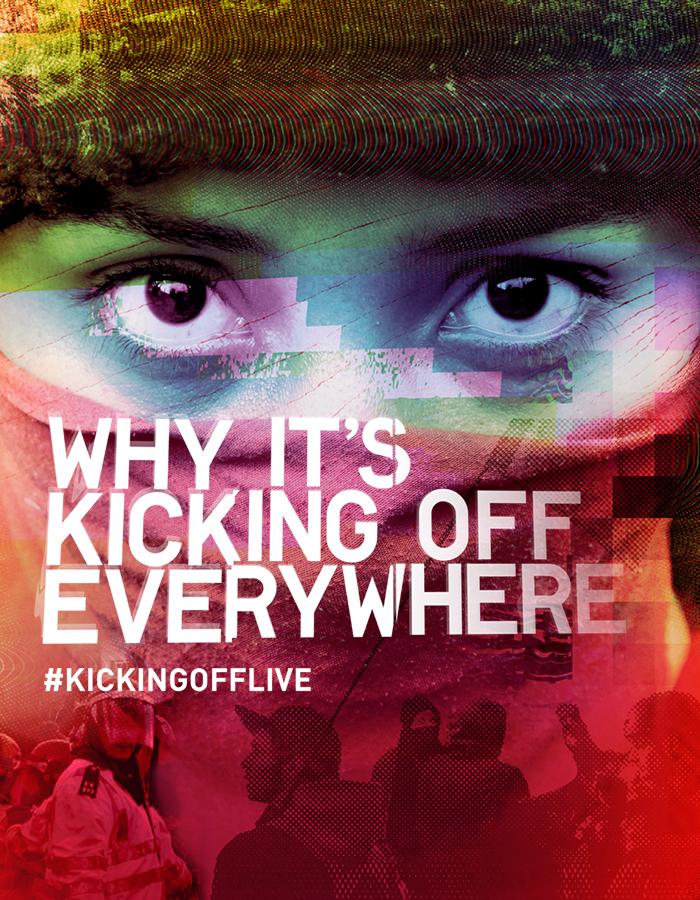 -
Why It's Kicking Off Everywhere
BBC Two, 10pm 22 July
This show will be broadcast on BBC Two on 22 July at 10pm
The Maria
"What kind of revolution is this?"
The world premiere of a play about revolution.
This is the story of the networked generation. How did we get from the optimism of the Arab Spring and the Occupy Movement to Trump's election and the dislocation of the present day?
Journalist Paul Mason teams up with Young Vic artistic director David Lan for this powerful and challenging new show based on Paul's acclaimed book.
Performed by Paul Mason, Khalid Abdalla, Lara Sawalha and Sirine Saba in promenade with stunning video designs, the audience will interact with the company throughout the show.
The show will be filmed and broadcast at a later date by BBC Television as part of Performance Live.
Direction David Lan
Broadcast Director Tim van Someren
Production Designer Jeremy Herbert
Video Director Ali Hossaini
Lighting Designer Nicki Brown
Sound Designer Peter Rice
Video Editor Tristan Shepherd
Casting Julia Horan CDG
With
Khalid Abdalla, Paul Mason, Sirine Saba, Lara Sawalha
Paul Mason talks to Huck Magazine about where progressive and protest movements are headed in the Trump-Brexit era.
Journalist Paul Mason to make his theatre debut at the Young Vic in Why It's Kicking Off Everywhere read more on The Evening Standard.