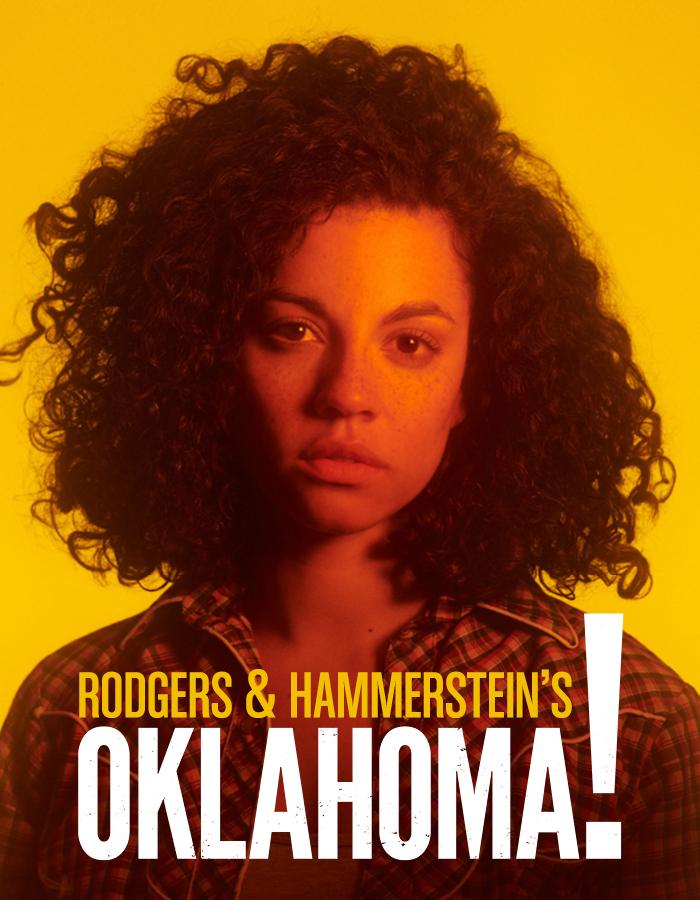 -
The Bard SummerScape production of Rodgers & Hammerstein's
Oklahoma!
In association with Eva Price, Sonia Friedman Productions, Michael Harrison
Music by Richard Rodgers. Book and Lyrics by Oscar Hammerstein II. Based on the play Green Grow the Lilacs by Lynn Riggs. Original Choreography by Agnes de Mille.
Directed by Daniel Fish and Jordan Fein
Mon-Sat, 7.30pm
Wed & Sat matinees, 2.30pm
Socially Distanced Performances
Tue 24 May, 7.30pm - Audio Described performance with free Touch Tour at 6pm
Wed 25 May, 2.30pm
Wed 25 May, 7.30pm
Thu 9 Jun, 7.30pm - Captioned performance
Fri 10 Jun, 7.30pm - Relaxed performance
£10, £20, £40, £58, £65
Is the performance you want sold out?
Try our Ticketing Tips
Main House
★★★★★ "Punchy, playful and sexy, this Oklahoma! is an absolute knockout" Telegraph
★★★★★ "A masterpiece...absolutely revelatory" WhatsOnStage
★★★★★ "Exceptional" Metro
★★★★★ "Oklahoma! is stunningly reimagined" Financial Times
★★★★ "A stunning reinvention...the best revival yet" Evening Standard
This is Rodgers & Hammerstein's Oklahoma! as you've never seen it before, re-orchestrated and reimagined for the 21st century. Winner of the Tony Award for Best Revival of a Musical, Daniel Fish's bold interpretation transfers to the Young Vic, direct from an acclaimed run on Broadway and a U.S. tour.
Oklahoma! tells a story of a community banding together against an outsider, and the frontier life that shaped America. Seventy-five years after Rodgers & Hammerstein reinvented the American musical, this visionary production is funny and sexy, provocative and probing, without changing a word of the text.
Show Warnings

Toggle

Due to the mature content in this production, it is recommended for children ages 12 and up. Children under the age of 4 are not permitted in the theatre. The production contains haze, smoke, gun imagery, loud gunshot effects, large amounts of blood, and violence. Most of the show takes place in very bright lighting, and the audience is well lit. There are also sudden blackouts and flashing video images. The show contains disturbing themes including mention of suicide and an implied act of sexual assault. Food is handled and consumed on stage during the show. Audiences can email boxoffice@youngvic.org for a full list of allergens before visiting.

Running Time

Toggle

3hrs approx. including interval
Act 1 - 1hr 20mins
Interval 20mins approx.
Act 2 - 1hr 15mins

Programme

Toggle

Download, print and read the official show programme here

Pre-Show Information (PDF)

Toggle

Ticketing Tips for Sold Out Shows

Toggle
Art direction: Emilie Chen. Photography: Mads Perch.
Production photography: Marc Brenner
Director Daniel Fish & Jordan Fein
Orchestration and Arrangements and Co Musical Supervisor Daniel Kluger
Choreographer John Heginbotham
Co Set Designer Laura Jellinek & Grace Laubacher
Costume Designer Terese Wadden
Lighting Designer Scott Zielinski
Sound Designer Drew Levy
Projection Designer Joshua Thorson
Co-Music Supervision and Additional Vocal Arrangements Nathan Koci
Musical Director Tom Brady
Associate Choreographer Shelby Williams
Associate Costume Designer Rachel Townsend
Associate Lighting Designer Fiffi Thorsteinsson
Associate Sound Designer Sam Lerner
Associate Musical Director Huw Evans
Dialect Coach Sam Lilja
Assistant Director Nimmo Ismail
Casting Director Jacob Sparrow
Orchestral Manager David Gallagher
With Raphael Bushay, Arthur Darvill, James Davis, Stavros Demetraki, Greg Hicks, Rebekah Hinds, Anoushka Lucas, Marie Mence, Liza Sadovy, Ashley Samuels, Patrick Vaill, and Marisha Wallace
Audio Described Performance: Tue 24 May, 7.30pm with a Touch Tour at 6pm
Captioned Performance: Thu 9 Jun, 7.30pm
Relaxed performance: Fri 10 Jun, 7.30pm
Audio Described by Eleanor Margolies
Audio Described and Captioned by Miranda Yates