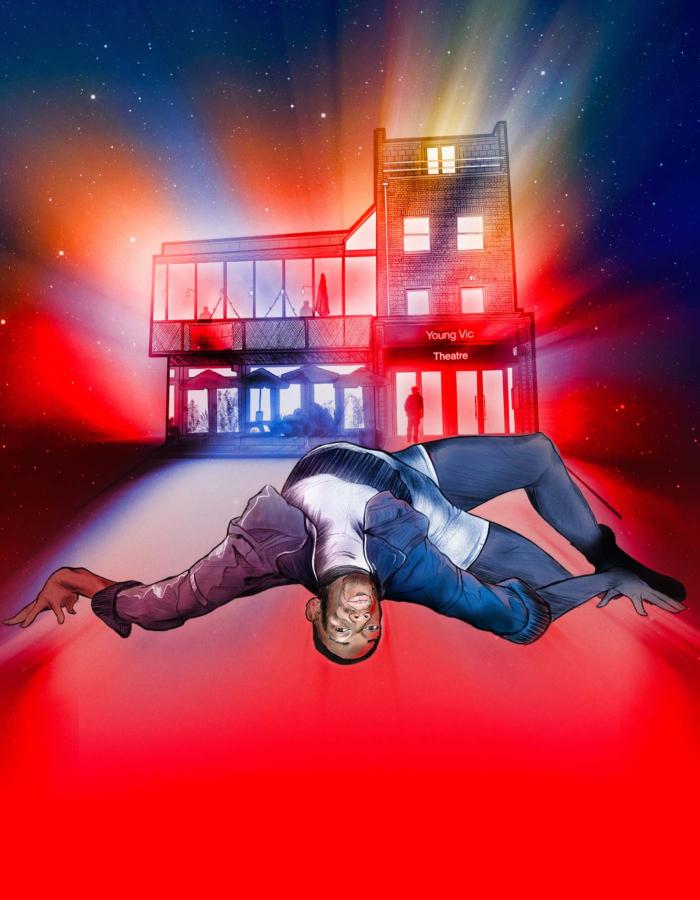 -
Jay Jay Revlon x Young Vic Taking Part Present
THE FABRIC with COLOUR VOGUE BALL
Walkers arrival time: 5pm
Doors: 6pm
Start: 7pm
There will be a limited number of spectator and walker tickets available to purchase in person at the box office on the day from 6pm for £20 each.
The Maria
IT'S TIME TO GO BACK TO THE PLAYGROUND and back to fun!
Ballroom is about being creative so Jay Jay Revlon and Young Vic Taking Part are bringing this back in TWENTY TWENTY THREE with a special birthday ball that puts the scene first.
So, grab all your fabric bits and bobs 'cos on this night, all roads lead to the Young Vic Theatre.
Jay Jay Revlon has been an early and devoted influence on the London Ballroom scene for the past five years and has been instrumental in defining how Ballroom in the UK is run. As Father of the 'UK House of Revlon' and founder of the 'Kiki House of Tea', Jay Jay is a leading authority of Ballroom in the UK.
Categories in Order
TAG Team Face (OTA) 2 x 🏆 🏆 - Under My Barbie Duvet vs JUSTIN AND BRITNEY 2000S DIAMOND SKIN 

Toggle

BEAT vs NO BEAT - AKA - MAKEUP Vs NO MAKEUP

Barbies, Your Face is Deviant. They say evil has never looked so good. Bring it dripping in Roses in an Embellished Tracksuit.

Britney and Justin's denim diamond looks have inspired so many, and tonight you are inspired to bring it with your retro pop royalty 2000s look.

OTA Baby Vogue 1 x 🏆 - Baywatch

Toggle

YES! Bring it in an inspired red and yellow look. Serve your WET BAWDY on the FLOOR (No Water ON THE FLOOR). Add denim to this look…basic jeans aren't going to cut it…edit, flare, jewels. Be creative.

Commentator vs Commentator 1 x 🏆 - "Dutt Inna Mi Eye Mi Nuh Care"

Toggle

USE the phrase "Dutt Inna Mi Eye Mi Nuh Care" in the chant for ya 10s and battles. Hold the mic and show us your best chanting ability. THE CHANT NEEEEDS TO BE ORIGINAL with a twist of chanting and incorporate nursery rhythm.

EU Runway 2 x 🏆🏆 - 1990s Baggy Jeans

Toggle

Denim fashion changed in the 1990s as the grunge era in fashion began, becoming more casual wear than stylish must-have. Carpenter jeans and head-to-toe denim were among the trendier looks, as well as overalls and shortalls, which were popular among younger women. For men, the rise of hip hop brought along a rise in popularity of baggy.

OLD WAY 1 x 🏆- 1920s and 1930s

Toggle

In the 1920s and 1930s, jeans were popular Western wear in the United States, worn by miners, cowboys and other male workers who needed sturdy clothing that could withstand heavy wear and tear.

Bring it in a look inspired by miners and cowboys. You have to choose one with a touch of red.

BEST DRESSED 1 x 🏆 - Love Reign

Toggle

It's Jay Jay's birthday! The theme of this party is RED royalty. Bring it in a Mostly Red look with inspiration from any of the cats, or bring your own creative royal Look!!

TAG TEAM OTA Performance 6 x 🏆 - Devil in a red C*nty Denim effect

Toggle

£5 Pot – winning team gets pot

For your Team you need min 3 – max 6 NOT ONLY VOGUE FEMS
Mandatory:

Old Way
New Way
Hand Performance

(Twisters and Transmen do NOT have to be in a c*nty look, but must come in an EFFECTED red look).

Realness 2 x 🏆🏆 & Realness with a Twister 1 x 🏆

Toggle

(You Must get your 10s in Realness first)
1960s - Hippie Jeans | Banji (thug), School, Pretty, executive. From hanging on the block, going to school or going to work in the city you are REAL. Bring it to the runway presenting the above. Make sure you are clear in your effect and what realness era you are, with a touch of red.

The 1960s launched the beginning of the hippie age. The youthful, free love movement that rocked American culture embraced the casual blue jean, which was seen to represent freedom from more structured clothing. In this decade of creative expression, personalising your jeans was considered very groovy. Embroidery, bright colours, stone washing, rhinestones and patches were just some of the hip jean trends of the time.

Bring it in a denim look encompassing the personalisation of the hippie days and add at least 2 to 5 ways. You can definitely add more of you like.

Lip Sync 1 x 🏆 - Uncontained

Toggle

Un-Contain yourself and bring it effected for this LipSync.

Lil Mama - "Lip Gloss" (Album Version)
Normani - "Motivation"
Busta Rhymes - "Touch it Remix"
Missy Elliott - "Work It Out"
Beyoncé - "Move Your Body"
Gwen Stefani - "Hollaback Girl "
JoJo - "Leave (Get Out)"
Britney Spears - "Baby One More Time"
Fun*dmental 03 - "Playground"

Check out the videos

Or listen to the lyrics

Foot, Eye and Bag 1 x 🏆 - 2000s Skinny Jeans Take Over F.E.B RED MANDATORY

Toggle

But the biggest story of the decade began in the mid-to-late 2000s, with the resurgence of the skinny jean, as a result of innovations in denim stretch technology. Suddenly, everyone was wearing skinny, legging-style jeans to work, on the weekend and for date nights out.

Bring it a skinny jean showcasing your footwear, eye wear, and bag.

ASS and Body: PULL OVER THAT ASS TOO FAT 1 x 🏆

Toggle

As we know all bodies matter. Come on it's Twenty Twenty. This is a bit different. Get your 10s for the body and 10s for shaking what your mama gave you.

Powerpuff Girls is something I grew up on. Tonight, you will embody two of Jay Jay's favourite villains: HIM and Mojo Jojo. Choose one of them. Be creative.

All American Runway 1 x 🏆 - AMERICAN DREAMS

Toggle

RED and ROSES. Bring it to the runway in an OVAH look that incorporates roses.

WAACKING 1 x 🏆 - Soul Train Line 70s Fashion

Toggle

The dance style Waacking originated in New York and Los Angeles in the early '70s as part of the clubs' US gay culture. Line up, Line up 2 sides and serve it down the middle.

Tag Team Hand Performance 1 x 🏆 - Clapping Game

Toggle

We all love a clapping game. You are Ying and Yang in a box and this is where to serve C*NT. Don't forget a touch of red.
Show Warnings

Toggle

Please note, this event will include loud music. Any strong language used is in alignment with, and appropriate within ballroom culture.
Judges
Legendary NYC Mother Jonovia Xclusive Lanvin

Toggle

Drawing on over 16 years of experience in dance, movement, and artistic expression, Jonovia Chase is a legendary runway artist and teacher. Known for her precision, style, and presence, Jonovia has most certainly left her mark on the catwalk as a legendary runway ruler within the House-Ballroom Community. As a runway assassin, Jonovia has garnered countless "Of The Year" awards and grand prizes. In 2022, Jonovia received the coveted epitome award which is only given to those who are the quintessential prototype for their category and have transcended expectations on and off the runway. Her artistry has gotten her invitations to places such as Hong Kong, London, Austria, Amsterdam, and to the hit TV show Pose in which she not only joined the cast for all 3 seasons but played a major role in casting other talent. It is also worth noting that Jonovia has been featured in various publications including the prestigious Vogue magazine.

Mother Nikki Gorgeous Gucci

Toggle

A pioneer , a trailblazer of the European ballroom scene, Mother Nikki Gorgeous Gucci passed on her knowledge acquired directly in New York city ( USA ) for more than a decade to the entire Parisian scene. She sparked the ballroom cultural movement in Paris. She is an essential figure and fundamentally respected, for her knowledge as for her status as International Queen Mother Gucci, amply deserved.

U.K. Father of The House of Elle, Benjamin Elle

Toggle

Benjamin is the U.K. Father of The House of Elle, he has been a constant in the U.K. Ballroom scene as an organiser and teacher for many years and has walked and won throughout Europe and New York in the category of New Way. He is a choreographer and movement director in the field of fashion, art and music.

Legendary Mother Marina

Toggle

The international trailblazer and educator, Mother Marina has been walking and winning the category of Pop Dip & Spin since 2011, snatching trophies in New York, Russia and all across Europe. She is known for her keen interest in Ballroom history and is a major advocate of learning and sharing Ballroom histories from the originators.

Honey Revlon

Toggle

Honey is a visual artist and performer whose practice combines movement, photography & film. Special interests in her movement practice are based in the exploration sexual politics as a Black queer woman. She has been a part of the UK ballroom community and the House of Revlon since 2017. Honey is a prominent figure in the UK for her category Sex Siren and is known for her sweet, sticky and indulgent performance that always leaves a mark

The princess Gaby Vineyard

Toggle

Gaby Vineyard was born and raised in Amsterdam. She is 24 years old. Her dad is from chile and her mom from suriname. around 2014/2015 she fell in love with ballroom through watching videos on youtube. A few months later she walked her first ball and joined her first and only house The House of Vineyard the first house from the Netherlands. She now became the princess of the house cause of her love and dedcation in the scene. And of course her grand prizes

European Overseer of the Iconic House of Saint Laurent, Sophie Yukiko

Toggle

Sophie Yukiko is a Berlin based writer, curator and Performance artist of German, American and Caribbean heritage. Her work caters to the topics of memory, violence and legacy. During her career as a professional dancer, she found Ballroom and has joined the community nine years ago. She is the founding mother of the Kiki House of Laveaux and known in the major scene as the European Overseer of the Iconic House of Saint Laurent.
Artwork by Jonathan G Ernesto
Judges
Jonovia Chase, Nikki Gucci, Benjamin Elle, Marina Peuranen, Honey Revlon, Gaby Vineyard, Sophie Yukiko
DJ and MCs to be announced at a later date