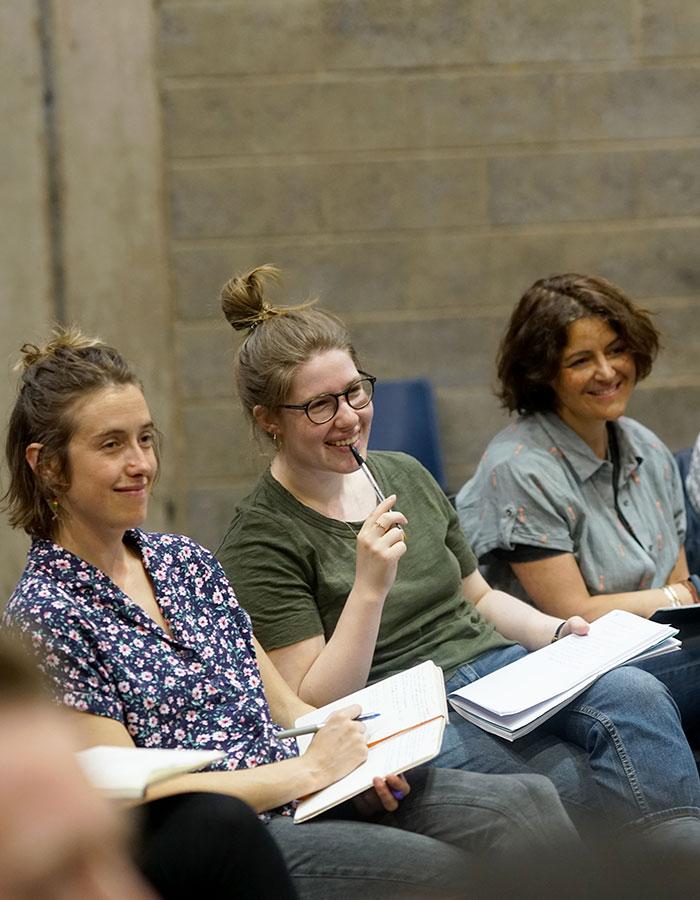 2020
YV:IDemystify
Events are FREE but ticketed. Tickets must be booked in advance. Max 2 Tickets per person.
Young Vic
A free programme of specialist events for theatre creators and makers.
The programme will promote the sharing of best practice models around the creation of theatre work, to help open up new pathways in the industry and to provide a toolkit for theatre makers to help them navigate their creative journeys.
Each event in the series will be co-convened by an industry leader, with a spotlight placed on a particular topic or theme that is current and recurrent for the theatre-making community. At each event, two speakers will lead an informal, in-the-round conversation, intended to kick start sharing, questions and experiences from the group.
Festivals as a Pathway for Creating New Work - Thursday 28 May 2020 [ONLINE]

Toggle

In partnership with LIFT

This event looks at making work for theatre festivals, and addresses how creators of work respond to festival contexts, how shows are proposed and developed within these, how originators of work interact with the curated nature of festivals, and how they may subsequently take their work further.

Please note: in light of the current social distancing measures, this event will now be taking place on Thu 28 May, 10am-12pm in a new digital format. All bookings are still valid, bookers will be contacted via email with details of how to join the online stream.
Emerged, Mid-Career, And Then What? Routes for Theatre Makers [POSTPONED]

Toggle

In partnership with Stage Directors UK

This event is aimed at mid-career director-theatremakers who have had their first couple of shows (self-)produced and wish to progress to the next stage in their career. Whereas an earlier generation of theatre practitioners may have relied on an infrastructure of associate and artistic directorships as next steps in their pathway in the industry, such opportunities and positions are increasingly hard to find. Where can mid-career makers, too experienced for emerging talent schemes but not yet on the next tier, turn to? What examples of innovative pathways may offer inspiration to those feeling they're stuck in the middle?

Please note: as a result of the guidance from the government that theatres in the UK remain closed, we have made the decision to postpone and reschedule this event. If you are a ticket holder, you do not need to do anything right now. Once a new date has been confirmed, we will be back in touch with you directly. We will be contacting ticketholders in chronological order, so please bear with us.In the meantime, our reduced staff will be intermittently monitoring our Box Office email, and we will do our best to respond to any urgent queries.

If you have any urgent questions visit our FAQs page.