Inside Death of a Salesman takes you behind the scenes, giving you an insight into how this production came to life. From the original idea and the people behind the script, to the creatives and production teams who do amazing work to bring the show to our stage, Inside Death of a Salesman explores how different elements come together to form what you experience at the Young Vic.
Our Loman Family
The Great Migration - an exodus from the South

Toggle

This information on The Great Migration was written by Dr Nicole King. The full article can be found in The Young Vic's programme for Death of a Salesman.

With the new century came increased demands of industrialisation and the need for factory workers for enterprises. Black people seized their chance and an exodus from the South began- what is now known as The Great Migration… From the 1910s continuing up to the 1970s, waves of black people moved in their hundreds of thousands to points north, like Pittsburgh, Boston and New York.

…In the early 20th century, New York City was emblematic of the country as a whole; it had a reputation as a place of wealth and opportunity for anyone willing to work hard to make something of themselves, but the reality was much different. New York attracted European and Caribbean immigrants, alongside Black American migrants from the southern states, eager to escape cycles of poverty and the South's pervasive culture of white violence, epitomized by lynching. For these Americans, each in their own way new to the limited privileges of citizenship afforded them 'The American Dream and New York, was a beacon of possibility.

… This was the possibility of achieving the American Dream. Part of this was the desire to own some land and thereby offer ones children the prospect of a better life. Such goals animated black people as much as any other population group, and it might have affected them even more deeply given how the system of racial slavery had used generations of black people's unpaid labour and land stolen from indigenous people as the capital to build the extraordinary wealth of the nation.

… In Death of a Salesman Willy and Linda Loman place a down payment on their Brooklyn home in 1925. Black newcomers began to swell the numbers of long-standing black enclaves in the racially mixed, but still predominantly white, neighbourhoods of upper Manhattan (Harlem) and Brooklyn (Bedford Stuyvesant and Crown Heights). New York was a marvellous place for self-invention and re-invention, which enabled an established black middle class, even an elite black community. However, the black community still had to learn quickly that anti-black racism was not just a southern phenomenon. Which restaurants might hire you but not serve you? Which hospitals would pay you to mop floors but not care for you in an emergency? Which realtors would rent or sell to you?

…In good and bad economic times, everyday life for black Brookynites would have been varied and would have included most professions and every socio-economic category. They were teachers, nurses, engineers, stevedores, secretaries, salesmen, factory workers, cooks, seamstresses, domestics, and undertakers, barbers and beauticians . Artists, politicians, and successful entertainers also made Brooklyn their home. In smaller numbers, their were lawyers, doctors, dentists and pharmacists. Black-owned and operated businesses developed and thrived by catering specifically to black clientele.

Co-Directors Marianne Elliot and Miranda Cromwell on the Loman's

Toggle

About three years ago the Arthur Miller Estate contacted Marianne Elliott to ask her if she'd like to direct Death of a Salesman with a black Willy Loman. Elliott was stunned, admitting that these sorts of opportunities usually go to 'some big cheese director'. She jumped at the chance but was also interested to take the idea further. Initially, the other characters were going to be played by white actors but Elliott wondered what would be the effect if the character Willy Loman wasn't just played by an actor who is black but if the entire Loman Family was African American.

Elliott flew to New York to run a series of workshops over a couple of days to test the concept. The workshop proved successful – it seemed almost perfectly possible to honour both the original script and the social and historical context of time time with an African American Loman family. The only issue was Biff's university. In 1949, Biff wouldn't have been able to go to the University of Virginia because it was not accepting African American students at the time so that was changed to UCLA – alma mater of Jackie Robinson, the first African American professional player allowed to play in Major League Baseball in the modern era.

It presented a perfect opportunity for Miranda Cromwell to step up from associateship... "It feels like an really exciting time to be revisiting some of the classics that are so well loved and so well known", she says. "And this play is so phenomenally written. I was so stunned and surprised when I was reading it – just by changing the viewpoint and the perspective from which I am looking at the text it becomes a new creature. It makes you view the text afresh... We're making it specific – the Loman family is African American, everybody else around them is white. And we're not asking the audience not to see the colour of their skin – we are specifically asking them to look at it".

An extract from Recasting Death of a Salesman in Exeunt Magazine (J N Benjamin)
Historical timeline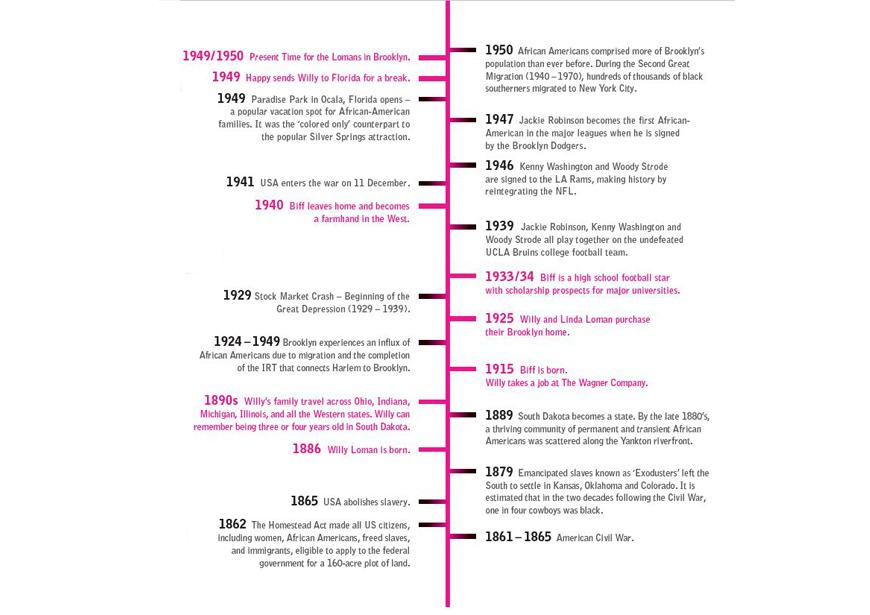 Kwame Kwei-Armah in conversation with Marianne Elliott and Miranda Cromwell
Anna Fleischle on Designing Death of a Salesman
The following displays extracts from Anna Fleischile's programme notes as the designer for Death of a Salesman. She comments on being struck by Miller's insight into the main character, Willy Loman's, state of mind. Drawing upon personal experience of her own father committing suicide because of mental illness. She explains her choice to emphasize upon Miller's description of Willy losing his sense of place in the world and the mental crisis he experiences as a result of this.
She explores Willy's mental crisis within her set design through sensations.
"I looked at images of light and shadow, of light hitting us into our eye or pushing through a door, pushing unstoppably like the memories penetrating Willy's mind."
"What does it feel like if the normal things around you suddenly take on a different shape? What if they seem to be more fluidly moving in and out of what we define as 'normality', and what is real to us in our individual experience?"
She also conveys Willy's sense of displacement in his life through shapes and colour.
"I looked at the setting of a 1940's Brooklyn home- the overshadowing of the future and the vastness of an expanding society, placing the human figure into a small fragile shape. I wanted the audience to get a sense of what it might feel like to be in Willy's mind; for the environment to stretch and shape, to go out of its seams and then return again. For the memory – the place he feels safe, the place he knew who he was – to be brighter, more colourful, more vivid than reality. His confusions are not ramblings we witness from the outside, they are invitations to travel these parallel worlds of experience so that we may get a small sense of an understanding of them."
The full article can be found in The Young Vic's programme for Death of a Salesman.
Behind the Scenes - Martins Imhangbe Instagram takeover