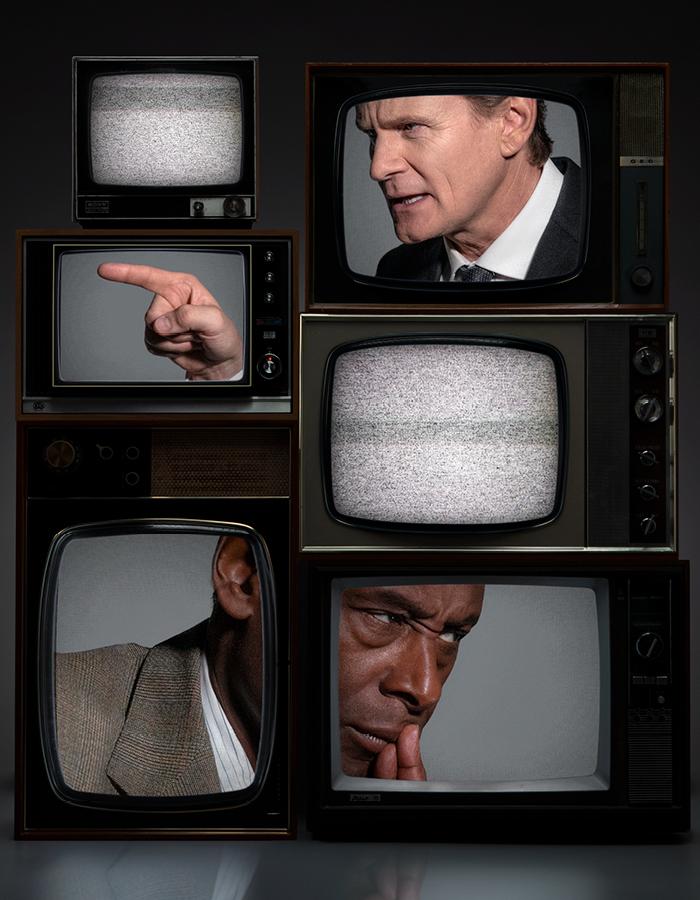 -
A Young Vic / Headlong co-production
Best of Enemies
A new play by James Graham
Directed by Jeremy Herrin
Mon-Sat: 7.30pm
Wed & Sat matinees: 2.30pm
Fri 24 Dec matinee: 1pm
Fri 31 Dec matinee: 2.30pm
Socially Distanced performances
Fri 17 Dec, 7.30pm - Audio described performance
Wed 5 Jan, 2.30pm
Wed 5 Jan, 7.30pm
Thu 6 Jan, 7.30pm – Captioned performance
Fri 7 Jan, 7.30pm
Sat 8 Jan, 2.30pm
Sat 8 Jan, 7.30pm
Thu 13 Jan, 7.30pm – Relaxed performance
£10, £15, £32, £45
Previews: £10, £15, £23, £28
Main House
"A man should never turn down two things. Sex, and appearing on television."
1968 – a year of protest that divided America. As two men fight to become the next President, all eyes are on the battle between two others: the cunningly conservative William F Buckley Jr., and the iconoclastic liberal Gore Vidal.
Beliefs are challenged and slurs slung as these political idols feud nightly in a new television format, debating the moral landscape of a shattered nation. Little do they know they're about to open up a new frontier in American politics, and transform television news forever...

Best of Enemies is the bold new play by James Graham (Quiz, Labour of Love), directed by Jeremy Herrin (This House, People, Places and Things).
Show warnings
This show contains themes of racism, homophobia and violence. There is occasional use of homophobic and racist slurs as well as misgendering. There are references to murder, antisemitism and frequent strong language.
Inspired by the documentary by Morgan Neville and Robert Gordon.
Best of Enemies is generously supported by The Charlotte Aitken Trust.
Headlong's co-commission of Best of Enemies is generously supported by Cockayne – Grants for the Arts, The London Community Foundation and The John Ellerman Foundation.
Image Credit: David Harewood and Charles Edwards. Photos by Graham Pearson and Kofi Paintsil. Concept by Émilie Chen.
Writer James Graham
Inspired by the documentary by Morgan Neville and Robert Gordon
Director Jeremy Herrin
Set and Costume Designer Bunny Christie
Lighting Designer Paule Constable
Sound Designer Tom Gibbons
Video Designer Luke Halls
Composer Benjamin Kwasi Burrell
Movement Director Shelley Maxwell
Associate Movement Director Sarita Piotrowski
Casting Charlotte Sutton CDG
Voice and Dialect Hazel Holder, Gurkiran Kaur and Salvatore Sorce
Jerwood Assistant Director Annie Kershaw
Jerwood Assistant Designer Amy Finch
Boris Karloff Trainee Assistant Director Sabrina Richmond
with Emilio Doorgasingh, Charles Edwards, Clare Foster, Tom Godwin, David Harewood, John Hodgkinson, Justina Kehinde, Syrus Lowe, Kevin McMonagle and Sam Otto.
Audio described performance: Fri 17 Dec 2021, 7.30pm
Captioned performance: Thu 6 Jan 2022, 7.30pm
Relaxed performance: Thu 13 Jan 2022, 7.30pm
Socially Distanced performances
Fri 17 Dec, 7.30pm - Audio described performance
Wed 5 Jan, 2.30pm
Wed 5 Jan, 7.30pm
Thu 6 Jan, 7.30pm – Captioned performance
Fri 7 Jan, 7.30pm
Sat 8 Jan, 2.30pm
Sat 8 Jan, 7.30pm
Thu 13 Jan, 7.30pm – Relaxed performance